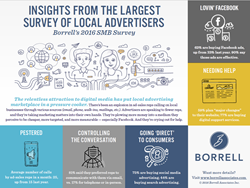 "It don't think we've ever seen this level of frustration."
Williamsburg, VA (PRWEB) September 06, 2016
Local businesses have begun plowing more money into revamping their own company websites and reaching consumers via social media – and carving money from traditional media budgets to do so.
The findings come from the nation's largest survey of local advertisers, conducted over the summer by Virginia-based research firm Borrell Associates, Inc. It shows that local business now consider their own websites and social media pages to be more important than traditional media in delivering new customers, but also shows they're relying on certain traditional media companies to help them do so.
"It's a slow-motion revolution," said Gordon Borrell, company CEO. "I don't think we've ever seen this level of frustration – nor this quick migration to social media – in prior years. Local advertisers are clearly taking control and shedding media companies that only want to sell to them, not help them with overall marketing. A lot of media companies are hearing that message and becoming marketing consultants as a result."
The Borrell survey of 7,564 local businesses shows that nearly two-thirds are now buying ads or boosting postings on social media. The rate of participation in Facebook advertising has doubled since last year, according to the report.
Other findings from the massive survey:

90% of those advertising on Facebook are satisfied with the results. 36% are "very" to "extremely" satisfied.
Social media websites rated #1 among the type of digital advertising local businesses planned to buy in the coming year, with search engine advertising No. 2 and newspaper websites No. 3.
15% are planning to increase their ad budgets over the next year, but nearly three times as many (40%) said they are planning to increase their digital budgets.
Increases in digital spending are coming mostly at the expense of traditional media. More than three-fourths plan to cut print or broadcast budgets to fund their digital increases.
One-third to more than one-half of advertisers said they believed certain print or broadcast channels were important to driving their digital marketing goals. TV advertising fared best, with radio second.
The "pester" factor from marketing reps has nearly doubled in a year. Local businesses reported an average of 14.6 sales calls per month; this year the number shot up to 23.7.
Borrell has been conducting the massive survey annually since 2010. The company also runs the largest ongoing panel of local businesses' marketing habits, fielding monthly surveys of more than 2,100 local businesses that gauge marketing trends.
For more information on Borrell's 2016 survey, visit http://www.borrellassociates.com/2016survey.