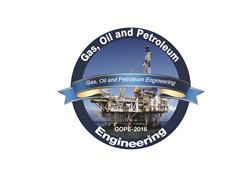 Santa Clara, CA (PRWEB) September 03, 2016
The International Conference on Gas, Oil and Petroleum Engineering on November 14-16, 2016 at the Hampton Inn Tropicana and Event Center, Las Vegas, Nevada (GOPE-2016) will bring together experts from industry, private and public organizations in various areas of energy for a comprehensive discussion on advances in the field with respect to research and development and address major energy system challenges.
GOPE-2016 aims to increase the industry and academic collaborations; enable the professionals and research scientists to share their acquired knowledge by exchanging experiences and discovering new technologies - for an accelerated implementation of the best practices in developing unconventional resources cost-effectively.
The three day event helps to monitor and influence legislative and regulatory activities on the international level; and to accumulate and disseminate information concerning the petroleum industry to foster the best interests of the public and industries. The fact this year is again challenging due to low oil price further magnifies value for knowledge transfer, networking, and competency development.
As a part of keynote lectures, Prof. Malcolm F. Fox from University of Bradford, UK to speak on "Current and Future Trends in Automotive Fuel Composition, Supply and Consumption"; Mr. Shuja Zaidi, President & CEO, Chem-Energy Corporation, USA on "Crude Oil International Market" and Prof. Russell R. Chianelli from University of Texas at EL Paso, USA on "Novel Transition Metal Sulfide Catalytic Materials for Hydroprocessing, F. T. Synthesis and Other Applications".
We count faculty members, industry-experts, graduate students, postdoctoral fellows as well as undergraduate students come together to hear from the most-active producers and midstream operators.
GOPE-2016 features world renowned scientists and book authors attending the event:

Prof. Constantin Cranganu, Brooklyn College of the City University of New York, USA
Dr. Jesse Hensley, National Renewable Energy Laboratory, USA
Prof. Sheldon Landsberger, University of Texas at Austin, USA
Dr. Ranjani Siriwardane, U.S. Department of Energy, USA
Prof. Baki Ozum, Apex Engineering Inc., Canada
Dr. Calvin Yao, IGOP, USA
Prof. Andreas Jess, University of Bayreuth, Germany
Prof. Ramesh K. Agarwal, Washington University in St. Louis, USA
Prof. Shinya Hodoshima, Chiyoda Corporation, Japan; are few among them.
For more information on the conference, please visit: http://gopengg.com/
About Organizer:
United Scientific Group (USG), an expert-driven initiative led by the editor's association and the advisory board which includes academicians, researchers, and industry leaders across various fields of research. USG provides broad range of services in the fields of science and technology including publishing, conducting world class scientific events, and holding highly interactive and proficient world forums. For more information, please visit: http://unitedscientificgroup.com/