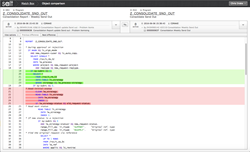 This is a true integration within the broader change control decision-making process and represents the first in a series of planned integrations between Salt change intelligence and the larger change control process, in RSC's product roadmap.
LAS VEGAS, Nev. (PRWEB) September 19, 2016
Revelation Software Concepts (RSC), a pioneer and market leader in simplifying change control for SAP® solutions, today announced a new integration between its Salt change intelligence software and the Overtake and Overwrite Protection System (OOPS) within the company's flagship change control automation software Rev-Trac.
OOPS detects and blocks conflicting transport collisions before they occur. The integration with Salt's Match Box application now provides a side-by-side process comparison in the form of an OOPS Object 'Diff' analysis of any workbench objects. The 'Diff' report highlights specific differences between conflicting objects, allowing the IT change team to make exception decisions and highlight any subsequent corrective action that may be required to eliminate conflicts.
"Our vision of enabling true Salt change intelligence to play a key part in the change control process in SAP software is now being realized," said David Drake, CEO and Founder of RSC. "This is a true integration within the broader change control decision-making process and represents the first in a series of planned integrations between Salt change intelligence and the larger change control process, in RSC's product roadmap."
The Match Box-OOPS integration launches a Salt Match Box-originated 'Diff' report upon request whenever an OOPS alert is triggered by the Rev-Trac migration process. This allows any out-of-sequence migration, downgrade or conflict retrofit to be compared side-by-side, which greatly facilitates conflict resolution. Some examples in the wide range of potential use cases include:
Retrofit facilitation
The new Match Box-OOPS integration gives analysts who resolve the change conflict the capability to launch a side-by-side comparison of conflicting support and project changes with Rev-Trac. If a conflicting change will severely affect the project go-live or requires too much rework, the analyst can reject the retrofit, automatically triggering a work order for manual rather than automated support change application. This gives the change team developers direct, real-time control over the affected parts of the process.
Prevents production downgrades by emergency changes
The Match Box-OOPS feature provides advance identification of any code that could be compromised by applying the emergency code, and allows the reviewing analyst to identify additional emergency code already applied to production. If the current emergency change would remove or downgrade any functionality from production, the potential problem is clearly identified in advance and can be resolved before a change creates new incidents. This gives the analyst complete advance notification of, and control over, any conflicting emergency change.
Go-live with parallel tracks
During the go-live of a long-running project developed in a parallel development track, project changes are applied to the support track. During this process, any existing support changes that conflict with project object versions will normally be overwritten by the go-live, potentially causing unanticipated incidents. Salt's Match Box-OOPS integration allows analysts to compare the project object version with the support object version and resolve the conflict. Normally, an organization will choose to overwrite a support change, then reapply it after the go-live, but this entails risk. The fully audited OOPS report will show the support analyst exactly what, in the support change, has been overwritten, allowing the analyst to easily identify a method of merging or reverting support changes without compromising the project change or creating incidents.
All of Revelation Software Concepts change-related solutions have achieved SAP-certified integration with SAP NetWeaver® running on SAP HANA®. For more information on Salt's suite of change intelligence applications, including brief demo videos, visit http://www.xrsc.com/salt. The integration was announced at the SAP TechEd® conference in Las Vegas, September 19-23. Attendees at the conference can find RSC exhibiting Salt at booth #610.
About Revelation Software Concepts
Revelation Software Concepts (RSC) has specialized in simplifying change control for SAP software since 1999. Developing market-leading software and integrations to reduce risks and lower the costs of managing and delivering changes in SAP software across ALM and DevOps platforms, some of the world's largest companies have come to rely upon its mature and innovative change control solutions focused on SAP software. RSC's deep expertise and responsive support have made them a trusted partner in change automation for SAP software around the globe. For more information, visit http://www.xrsc.com and at SAP TechEd booth #610.
Note to Editors—RSC and Salt are trademarks or registered trademarks of Revelation Software Concepts Pty Ltd. SAP, SAP NetWeaver, TechEd, SAP HANA and other SAP products and services mentioned herein as well as their respective logos are trademarks or registered trademarks of SAP SE (or an SAP affiliate company) in Germany and other countries. See http://www.sap.com/corporate-en/legal/copyright/index.epx for additional trademark information and notices.
All other product and service names mentioned are the trademarks of their respective companies.