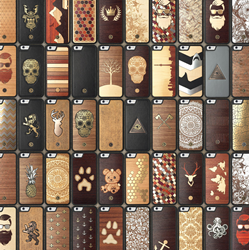 Fantastic product! Not only is it very aesthetically appealing, but the case has already saved my phone from a few drops!
Mississauga, ON (PRWEB) September 05, 2016
Founded in 2012, Keyway is a leading Canadian designer and manufacturer of premium wood and leather iPhone accessories. They are now updating their fast-growing catalog of hand-made iPhone cases in preparation for the launch of the next-generation iPhone in mid-September, 2016. Designed and built in Mississauga, ON, Canada using top-quality woods and leathers, the Keyway case has been pushing design boundaries and challenging the status-quo of what an iPhone case can be. Keyway has taken the stance that when it comes to "form vs function", an iPhone case CAN have both.
By blending classic materials, modern laser-cutting technology, and thoughtful design, Keyway has positioned itself as a top contender in the market for boutique accessories for the iPhone. With customers from every corner of the globe touting Keyway's quality and customer service, they are confident that the updated collection contains a perfect leather or wood iPhone case for everyone. Read some Reviews
The full lineup of Keyway cases, along with some very-special Limited Edition models, are available now at http://www.KeywayDesigns.com. Pricing ranges from $30 - $90 CAD.