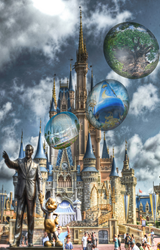 'Help others and give something back. I guarantee that you will discover that public service improves the lives and the world around you. It's greatest reward is the enrichment and new meaning it will bring your own life.' - Arnold Schwarzenegger
Clinton, NJ (PRWEB) September 05, 2016
Ryan Crane is a world renowned and award winning photographer well known for having an artistic take on Walt Disney World photographs. The site RyanCranePhotography.com has now been launched!
RyanCranePhotography.com is a website that helps vacationers, aspiring photographers and seasoned photographers improve their skills. While there is more detailed help and lessons on the sister site ImproveYourPhotographyOnline.com, RyanCranePhotography.com has many free resources available to everyone.
Along with helping photographers improve, the website is also geared towards giving back to society. Helping others and giving back is very important to Ryan and the team at ryancranephotography.com. The site has a section to auction off prints and each print that gets auctioned off donates to a charitable cause. These auctions can be found at http://www.ryancranephotography.com. The auctions often donate 25% of the total sale price to St. Jude's Children's research hospital to help children truly in need. As an added bonus, subscribers to the site have the occasional chance to win prints of Ryan Crane's photography.