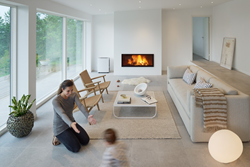 The Blueair Classic lineup is a torchbearer for our mission to ensure people everywhere can breathe cleaner air in an urbanizing world where it's in short supply
Stockholm, Sweden (PRWEB UK) 5 September 2016
Blueair has given its Blueair Classic air purifying series a makeover that delivers users a 20% boost in clean air delivery, more silent operation than ever before, WiFi-enabled Cloud connectivity and a sleeker profile. Blueair's technical designers have taken a noticeable leap forward in re-imaging the Blueair Classic that further raises the bar for the air purifying industry.
"The Blueair Classic lineup is an institution in the industry and a torchbearer for our mission to ensure people everywhere can breathe cleaner air in an urbanizing world where it's in short supply," said Blueair founder and CEO Bengt Rittri. He said the Blueair Classic is the holy grail of air purifiers, a 20-year old best-seller that is helping millions of people globally to breath cleaner, healthier air at home and work.
Some revolutionary departures for the new Classic include equipping some models with Blueair's built-in clean air intelligence technology. The Classic 280i, 480i and 680i integrate seamless via WiFi with the standalone Blueair Aware air monitor to help people better understand what is polluting their indoor air and ensure they can speedily remove the contaminants.
The new Blueair Classic models also deliver an improved clean air delivery rate (CADR), which delivers 20% more purified air on the faster speed setting, and a substantially lower noise level and power consumption thanks to improved fan technology. There is a sleeker, slightly more rounded appearance and a new whiter shade of white color to the latest Blueair Classic, which is further enhanced by an improved user interface hidden neatly by a narrow display flap on the front of the unit.
"The new Blueair Classic lineup reflects Blueair's design ethos to deliver simplicity together with inclusiveness with products geared to deliver 100% air purification satisfaction," said Bengt.
The new Blueair Classic series is available in major markets across Europe from around €400 (subject to market variations).