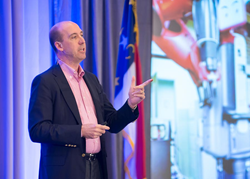 We need to be able to have the flexibility and adaptability to both be prepared for whatever comes next and to help create innovative solutions that create the world that we all want to live in.
Denver, CO (PRWEB) September 07, 2016
Blockchain, agricultural disruptions like "super-wheat" and "real vegan cheese," wearable tech, battery storage, collaborative consumption and MOOCs are just a few of the topics futurist Jack Uldrich touches on when he speaks to his international clientele.
This September, Uldrich is confirmed to address five clients in the fields of agriculture, wealth management, higher education, rural broadband and human development. He will focus on the twelve tech trends that will transform the world and his concept of the "Big AHA."
The Big AHA is Uldrich's acronym for Awareness, Humility, and Action. Uldrich says, "The best way to predict the future is to create it yourself. Creation, however, requires action. Some of the activities industry leaders can take today to build a prosperous tomorrow are, among others: Taking a Think Week, conducting a "premortem", hiring a "chief white-space officer" or a "chief unlearning officer."
His confirmed to speak at the following events:
Sept. 08, 2016: CoBank • Denver, CO
Sept. 13, 2016: SunTrust • Charleston, SC
Sept. 15, 2016: World Presidents Organization "SoulFuel" • Sedona, AZ
Sept. 22, 2016: Genesee Community College Foundation • Batavia, NY
Sept. 26, 2016: NTCA–The Rural Broadband Association • Indianapolis, IN
Throughout this month and beyond, what Uldrich wants, for each of his very diverse audiences, is for them to consider how forgetting what they know can actually open them up to what he calls the "predictably unpredictable" future."
Uldrich has addressed Fortune 100 corporations, venture capital firms, associations, not-for-profit organizations and state and regional governments on five continents. His client list includes the National Association of Manufacturers, Emerson, Trane, Siemens, Eaton, PMMI, ABB/Thomas & Betts, among others.
Parties interested in learning more about this event, his books, his daily blog or his speaking availability are encouraged to visit his website.