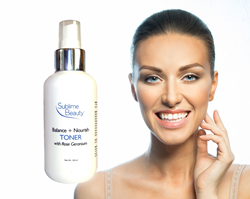 The new Sublime Beauty toner includes a number of natural ingredients to help skin health and beauty.
St. Petersburg, FL (PRWEB) September 06, 2016
A new toner for gorgeous skin has been introduced at Sublime Beauty.
BALANCE + NOURISH TONER with ROSE GERANIUM is now available on both Amazon and Sublime's store.
"We love essential oils and sell a therapeutic-grade line at Sublime Naturals," says founder Kathy Heshelow. "We developed this toner with a number of essential oils and natural extracts, for all skin types."
In addition to Rose Geranium (known to help skin), it includes witch hazel, Lavender, Aloe, Arnica, Strawberry, Raspberry, Lemon, Tea Tree, Green Tea, Rosemary and more!
The 4 ounce pump spray bottle is handy. To use, cleanse skin then spritz 2-3 pumps of the toner on a cotton ball or pad, and lightly blend over face in upward movements. That's it! Skin is ready for serums or creams and makeup. Repeat at night after removing makeup and cleansing.
ABOUT: Sublime Beauty focuses on skin health and aging skin. All products are available on Amazon and on it's store. Sublime has a popular niche in Skin Brushing as well. Inspiration for the company comes from France.