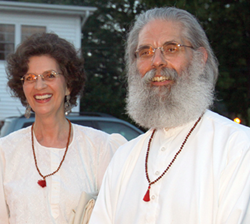 Since Yoga Science and meditation worked so well for us in demanding circumstances, we thought it could work for others. From our personal experimentation, AMI was born.
AVERILL PARK, NY (PRWEB) September 06, 2016
On October 1, 2016, The American Meditation Institute (AMI) will begin a year-long celebration of its 20th anniversary of teaching Yoga Science and meditation as holistic mind/body medicine to reduce stress and relieve burnout. Established in 1996, AMI founder Leonard Perlmutter's "Heart and Science of Yoga," curriculum was the nation's first comprehensive Yoga Science program accredited by the American Medical Association for continuing physician medical education credit.
The American Meditation Institute is a 501(c)3 non-profit educational organization devoted to combining the best of ancient Eastern wisdom and the practicality of modern Western science. Under the guidance of its founders, Leonard and Jenness Perlmutter, The American Meditation Institute provides practical, step-by-step instruction on how to control, conserve and transform our greatest human resource––the power of thoughts, desires, emotions and concepts. When practiced daily, these mind/body skills can empower individuals to make conscious, discriminating and reliable choices––choices that enhance their physical, mental, emotional and spiritual wellbeing.
According to Leonard Perlmutter, "By practicing the scientific meditation techniques taught at AMI, students learn how to construct a practical, metaphoric bridge between their own inner, intuitive wisdom and their actions in the world. This bridge between the inner mental world and the outer world of action makes it possible to coordinate our human assets in such a positive way that it enables us to experience healthy, creative, loving, nurturing and rewarding relationships."
Co-founder Jenness Perlmutter points out that, "The curriculum presented at The American Meditation Institute is an educational body of knowledge that neither interferes nor conflicts with any religious or cultural belief. On the contrary, the teachings at AMI helps individuals of all backgrounds to increase their understanding of, and appreciation for every religion and culture, including their own."
To coincide with The American Meditation Institute's twentieth anniversary, AMI will host its eighth annual mind/body medicine 30 CME conference, October 25-29, 2016 at the Cranwell Resort and Spa in Lenox, Massachusetts. For this American Meditation: The Heart and Science of Yoga physician conference, AMI has assembled an impressive faculty of distinguished experts who will present lectures and provide practicums on meditation, diaphragmatic breathing, mantra science, Yoga psychology, mind function optimization, Trauma and PTSD, Neuroplasticity, an understanding of the chakra system as a diagnostic tool, nutrition, Functional Medicine, epigenomics, Ayurveda, easy-gentle yoga and lymph system detoxification.
-30-
About the American Meditation Institute
The American Meditation Institute offers a wide variety of weekly meditation classes, retreats, conferences and teacher training programs at its main campus in Averill Park, New York. AMI also publishes "Transformation, a bi-monthly journal of Yoga Science as holistic mind/body medicine. Call 518.674.8714 for a mail or email subscription.
Media Contact:
Robert Washington
60 Garner Road,
Averill Park, NY 12018
Tel: 518-674-8714
Fax: 518-674-8714