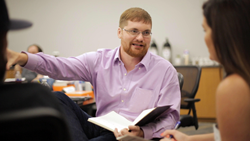 Staying connected with our customers in informal settings like our All Access Event is just part our culture – expect to see much more of that from Rapid Crush.
Valencia, California (PRWEB) September 05, 2016
J ason Fladlien co-founder of Rapid Crush, Inc. hosted dozens of entrepreneurs and Amazon Sellers at an All Access VIP event during the Sellers Conference for Online Entrepreneurs in Seattle, WA on August 26-28, 2016. During the event, Flaldien made some bold predictions about the direction of Amazon selling programs and highlighted the signature Rapid Crush offerings that are designed to provide entrepreneurs more of the cutting-edge tools they need to succeed in any eCommerce business. Specifically, Operation Physical Products and AzonLab by Rapid Crush.
"Rhonda Schneider & team do a superb job with SCOE. Conferences like SCOE provide opportunities to share success formulas that help everyone win in an extremely competitive eCommerce world. Selfishly, it provides me the chance to work face to face with customers, which is something I love to do. Staying connected in informal settings like the All Access Event is just part of Rapid Crush culture – it's us. Expect to see much more of that."
Fladlien founded Rapid Crush in 2011 with Wilson Mattos and is recognized a world-leading expert and pioneer in Amazon and eCommerce business. Together, Mattos and Fladlien have helped online entrepreneurs build multiple six and seven Amazon seller businesses.
Fladlien noted, "SCOE was also the perfect place to showcase two of the world's most powerful signature eCommerce programs; Operations Physical Products and AzonLab for online sellers. We have big plans for both programs and some exciting news to share very soon. We'll be making those announcements at the upcoming Retail Global Conference in Las Vegas (September 20th - 22nd) where I will be leading several panel discussions."
ABOUT RAPID CRUSH
Rapid Crush, Inc. was founded in 2011 by Jason Fladlien and Wilson (Wil) Mattos and is based in Valencia, California (just North of Los Angeles). Rapid Crush powers the performance of some the world's most recognized and successful online and eCommerce businesses. RCI helps drive annual seller sales volume that now exceeds $125 Million in over 20 countries. With teams on every continent (except Antarctica), the sun never sets on Rapid Crush.
ABOUT JASON FLADLIEN
Jason is Co-founder & Chief Strategy Officer of Rapid Crush, Inc. Customers know Jason as a digital age visionary and a brilliant marketing mind. He has built multiple highly successful businesses that define trends in their respective markets and make six and seven figures annually. He helps others do the very same by applying his considerable know-how, tech and tools. His everyday work includes making sure the company provides more value every day with brilliant new products and partnerships.
© RAPID CRUSH, INC. 2016. All Rights Reserved