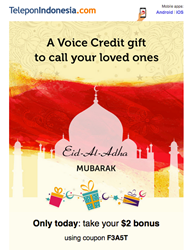 You are doing great. I love the service. (Ravi Kumar)
Atlanta, Georgia (PRWEB) September 06, 2016
Indonesian Muslims abroad celebrating Eid al-Adha are offered $2 Voice Credit from TeleponIndonesia.com, for their international calls to Indonesia with coupon F3A5T. The Bonus includes up to 86 international minutes to call Indonesia and it applies on orders of minimum $15, placed on TeleponIndonesia.com until September 10th: https://teleponindonesia.com/buy/voice
The $2 Bonus never expires, and this is also valid for the minimum $15 balance too. The Bonus Credit of $2 includes 44 calling minutes to mobiles in Indonesia as well as national landlines, except for calls to Jakarta. For $2, Indonesians can talk to someone in Jakarta for 86 minutes with the Voice Credit service offered by TeleponIndonesia.com.
The regular rate to call mobiles and landlines in Indonesia is 4.5 ¢/min, with no hidden fees, no connection fees, no contract or any other constraint or obligation. Calls to Jakarta have an exceptional rate of 2.3 ¢/min. Mainly, customers get exactly what they pay for. It is not only what the service claims, but what reviews on TrustPilot.com and other review platforms show.
The current calling Bonus is a way TeleponIndonesia.com decided to support long distance communication between Indonesians and their relatives and friends back home around the Feast of sacrifice, one of the two most important holidays in this country.
To get the calling Bonus, one needs to place an order of minimum $15 Voice Credit (up to 652 calling minutes to Indonesia) using coupon F3A5T in the checkout. The online purchase takes few seconds, and payment is accepted from any country, no matter the currency of your account. Payment can be made using any major credit card or Paypal account. Only one use per customer is allowed, between September 8th and September 10th, 2016.
Calling credit from TeleponIndonesia.com is the smartest alternative to calling cards nowadays, that makes available 3 different ways to make international calls to Indonesia, and other destinations:
-On the go, using KeepCalling app for Android and iOS devices.
-From any phone to any phone in Indonesia or elsewhere without Internet connection, using access numbers just like in the traditional calling cards.
-Web Call app, which is available in one's account, and helps one make calls while browsing on one's laptop or PC.
Besides Voice Credit for international calls, anyone holding an account on the website benefits of the Mobile Recharge service too. This is an option that allows one to send mobile credit to relatives and friends in Indonesia. It only takes few seconds, since it is done online, and the credits get to the beneficiary in Indonesia instantly. The phone numbers in Indonesia that can be refilled online via TeleponIndonesia.com belong to the following mobile operators: Smartfren Telecom, Indosat, Telkomsel, Axis, 3, Ceria, XL Axiata.
On TeleponIndonesia.com, expats get several extras.
-Thank You points, for instance, are added automatically on every purchase, whether Voice Credit or Mobile Recharge.
-Free features like Speed Dial and PINless Dialing make international calls feel like domestic calls.
-Auto Recharge is another feature everyone has access to, that feeds the account with more balance once it drops below a certain amount.
Eid al-Adha is a good occasion to take all the time in the world and talk to folks home, while saving big on one's international calling bill with TeleponIndonesia.com.
TeleponIndonesia.com is a website dedicated to the Indonesian diaspora. The website is a brand of KeepCalling, a global telecommunications company registered in 2002 in the USA. Presently, KeepCalling provides its services to hundreds of thousands of consumers and businesses, with a focus on customer satisfaction. KeepCalling has been listed by Inc 5000 as one of the fastest growing companies in the USA for 5 consecutive years. In 2015 the company registered a revenue increase of over 200% from 2011 to 2014.