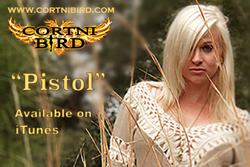 "Reality is setting in and it's amazing to live my dreams. I just truly enjoy sharing the works I write and performing them for my fans. Watching individuals dance and have fun is the love of my heart."
Navarre, Florida (PRWEB) September 07, 2016
Cortni Bird Management, C-Hawk Records, and Free Bird Consulting and Publishing are pleased to announce the new single release of "Pistol." The debut single started playing in Europe on September 1, 2016.
The rising country music singer/songwriter is getting rave reviews on her new single. Legendary Nashville producer Mark Mosley produced the song and as well a video that compliments the new release. The video is getting many views by fans across the world and is projected to take this song to the top of the charts in Europe.
Cortni said, "Reality is setting in and it's amazing to live my dreams. I just truly enjoy sharing the works I write and performing them for my fans. Watching individuals dance and have fun is the love of my heart." Cortni has just finished her album in Nashville and is planning an early 2017 release. It is filled with many great songs that are going to make waves in the Country Music industry.
October is already shaping up to be a big month for Cortni. She has a solid two-week tour planned that will involve performances, radio interviews, and TV performances. Cortni said, "I am not at liberty to share everything at this point as it is still in the works, but I can say that it will be big and an amazing experience that will take my career to a whole new level."
Keep an eye on this up and coming artist. You can follow her on social media and watch for further releases of information related to her music career on her website.
http://www.cortnibird.com
facebook.com/cortnibird
instagram.com/cortnibird
twitter.com/CortniBird
YouTube/CortniBird
###