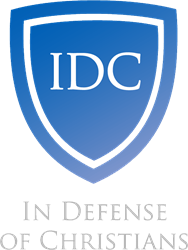 Washington, DC, (PRWEB) September 05, 2016
In March, both the U.S. House of Representatives and the U.S. State Department declared the Islamic State in Iraq and Syria (ISIS) guilty of perpetrating genocide against Christians, Yazidis and other ethnic and religious minorities in the territories under ISIS control. This historic moment was the result of months of close, bi-partisan collaboration between In Defense of Christians (IDC), Representative Fortenberry (R-NE), Representative Anna Eshoo (D-CA), the Knights of Columbus and other activists, religious scholars and human rights experts.
WHAT: IDC announces its 2016 National Advocacy Convention, which begins this Wednesday, 7 Sept., and continues through Friday, 9 Sept in Washington D.C. The convention, whose theme is Beyond Genocide: Preserving the Future of Christianity in the Middle East, is being held in partnership with the Philos Project, the Armenian National Committee of America and the Institute for Global Engagement. Former Attorney General John Ashcroft will keynote IDC's Third Annual Solidarity Dinner on day two of the convention.
WHY: With this event, IDC and its partners ask what's next? Participants will introduce a number of critical resolutions, with support from members of Congress, that ask the U.S. government to support the following:
Support for Security and Stability in Lebanon and Relief from the Syrian Refugee Crisis
Encourage Reform of the Legal Regulations Regarding the Rebuilding and Construction of Churches in Egypt
Bring Turkey to Account for its Genocide against Armenians and Assyrians
IDC will also be calling for a resolution in support of efforts to establish a province for the indigenous Christians and other peoples of the Nineveh Plain Region of Iraq.
**RSVP: press(at)indefenseofchristians.org**
WHERE and WHEN:
DAY ONE:
Sept 7: National Press Conference, 3pm to 5pm at the National Press Club, 529 14th Street NW. Policy and human rights experts engage the national media in pressing for a way forward for Christians and other ethno-religious minorities in the Middle East.
Ecumenical Prayer Service for Christians in the Middle East, 7pm to 9pm at Holy Rosary Catholic Church, 595 3rd Street NW. Pope Francis' Apostolic Nuncio to the U.S., Archbishop Pierre Christophe, will be the celebrant.
People of all faiths are invited to join the service.
DAY TWO:
Sept 8: National Advocacy Day, 1:15pm to 4:15pm at the Congressional Visitor Center Auditorium, First Street NE. U.S. representatives and senators, human rights experts, national and international policy scholars and activists will discuss how to make the plight of Christians in the Middle East a foreign policy priority.
Third Annual Solidarity Dinner, 6:30pm to 10pm at the Capitol Hill Club, 300 First Street SE. Former Attorney General John Ashcroft will give an address at the dinner. IDC presents Knights of Columbus Supreme Knight Carl Anderson and U.S. Representatives Anna Eshoo and Jeff Fortenberry with IDC Lifetime Achievement Awards. Includes key-notes from high-level policy makers.
DAY THREE:
Sept 9: Policy and Awareness Symposium, 9am to 3:30pm, Dirksen Senate Office Bldg, Room 106. Discussion with human rights experts, policy makers and academics. Presentations include:
Genocide and Persecution: Past and Present
Preserving Christianity on the Nineveh Plain
Solutions to the Refugee and Political Crisis in Lebanon
Capitol Hill Rooftop Cocktail Party and US Premiere of documentary Our Last Stand, 7pm to 10pm, Heritage Foundation, 214 Massachusetts Avenue NE. "Our Last Stand" chronicles one woman's journey to Iraq and Syria to reveal the plight of Christians in the region.
WHO: Participants include John Ashcroft, former Attorney General of the United States, Dr. Katrina Lantos-Swett, Helma Adde, Jordan Allot, Carl Anderson, Toufic Baaklini, Joseph Boohaker, Archibishop Oshagan Choloyan, Rep. Barbara Comstock, Dr. Robert Danin, Aida Dimejian, Andrew Doran, Rep. Sean Duffy, Rep. Anna Eshoo, Kirsten Evans, Nobel Peace Prize Nominee Ashur Sargon Eskrya, Rep. Jeff Fortenberry, Rep. Trent Franks, Neemat Frem, John Gallagher, Rep. Glenn Grothman, Aram S. Hamparian, Kent Hill, Rep. Bill Johnson, Ninar Keyrouz,Tonia Khouri, Rep. Steve King, Rep. Darin LaHood, Sen. James Lankford, Rep. Dan Lipiniski, Kathryn Jean Lopez, Bishop Gregory Mansour, Rep. Mark Meadows, Alexis Moukarzel, Rep. Mick Mulvaney, Rob Nicholson, Kristina Olney, Rep. Rob Pittenger, Rep. Mike Pompeo, Rep. Keith Rothfus, Rep. Peter Roskam, Armen V. Sahakhan, Rep. Brad Sherman, Rep. Chris Smith, Juliana Taimoorazy, Knox Thames, Mark Tooley, Rep. Dave Trott, Rep. Juan Vargas, Andrew Walther, Rep. Randy Weber, Rep. Rob Wittman, Rep. Tom Wolf and Bishop A. Elias Zaidan.
For more detailed event information, please visit http://www.nac2016.org. For press inquiries and questions, please contact melissa(at)indefenseofchristians.org / 540-226-7215
To RSVP: press(at)indefenseofchristians.org. *Please indicate which event you are RSVPing for.
*****
In Defense of Christians (IDC) is a nonprofit, nonpartisan organization committed to the preservation and protection of Christians in the Middle East.