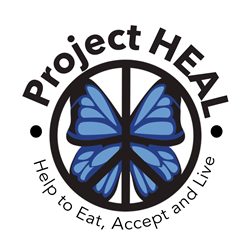 "It's important that money Project HEAL raises has maximum impact in the eating disorder field. There is often a gap between researchers and advocates, but the best innovation comes when we work together," says Saffran, co-founder of Project HEAL.
NEW YORK, NY (PRWEB) September 07, 2016
Project HEAL today released its findings after convening leading researchers and clinicians in the eating disorder field at Google Headquarters on Aug. 17, 2016. Attendees discussed initiatives that would best prevent, treat, and cure the 70 million people suffering from eating disorders across the globe.
The meeting resulted in the following high-level recommendations to help drive global change over the next decade:
1. Involve patients and families in setting research priorities.
Mental health research and treatment development has been far too top down. We need to involve patients and families in the research and treatment development process from the beginning and throughout. What questions do they think are important to answer? What do they want out of recovery? What have their challenges been in staying well? There is often a gap between researchers and advocates, but the best innovation comes when we work together. (Link to: http://www.thelancet.com/journals/lanpsy/article/PIIS2215-0366(16)30147-X/abstract)
2. Utilize technology to treat the 70 million who suffer.
We need to be thinking about solutions on a much larger scale, as a majority of the 70 million sufferers around the world currently can't access treatment. Technology can be utilized to bridge this gap, allowing us to deliver treatments that are affordable and accessible to people of all incomes, all geographic areas, and to those who lack adequate insurance, and to tailor interventions to reach undertreated groups (people of color, males, sexual and gender minorities, etc.) E-health interventions also enable us to help patients when they are suffering, keep patients accountable to their behavioral goals, and connect a multidisciplinary team. Finally, technology allows us to collect massive amounts of data—longitudinal dietary, psychological, symptoms, app usage, sleep, heart rate, physical activity, etc.—that we can ultimately use to optimize existing treatments.
3. Strengthen less intensive treatments.
Too often, people are only treated for their eating disorder when their symptoms become extreme. We don't intervene early enough, and don't provide enough support as symptoms decrease but eating disorder thoughts remain strong, setting them up for a cycle of relapse. We support building out lower levels of care to minimize the amount of time any individual is exposed to eating disorders symptoms and behaviors, and to serve as a necessary support network following intensive treatment in order to minimize relapse. Strengthening this part of the treatment continuum will require improved training of general and community clinicians, as well as improved information, patient/family education and insurance coverage.
4. More transparency in treatment effectiveness.
Patients and families deserve transparency and high quality evidence based treatments. For-profit residential treatment programs are a growing sector of the health care industry, but little outcome data have been published to verify long-term effectiveness. Non-profit, academic treatment centers have published somewhat more on weight and symptom change, but still have great strides to make. This makes the landscape very confusing for patients and families. We propose building a program registry—where all treatment centers report on a core battery of clinically useful outcome measures on a regular basis. Factors such as BMI, eating behavior symptom frequency, and psychological symptoms should be measured at beginning and end of treatment, and at 3 months, 6 months, and 1 year post treatment. These data would be used to help programs evaluate performance compared with industry standards, and ultimately, to improve available care. (Link to: http://ps.psychiatryonline.org/doi/pdf/10.1176/appi.ps.201500338)
5. Disseminate what works.
Many therapists treating eating disorders are not delivering evidence based (or even evidence informed!) treatments. Technology can be utilized to help us address this challenge. We believe that master clinicians in evidence-based treatments for eating disorders should build a training platform and provide ongoing supervision for therapists across the globe. This platform should also be developed to collect outcomes, monitoring whether clinicians actually use the skills and whether patients improve.
6. Replace the myths with truths.
There is a need for an updated curriculum on eating disorders in schools and training programs across the globe. Much of the current knowledge held by providers and the general public is based on faulty information that perpetuates harmful myths. New curriculums—for primary and secondary schools, physicians, social work students, nutritionists, athletic coaches, etc.—based on the latest science, are desperately needed.
7. Move the dial on prevention strategies.
Almost all of our prevention research to date has been at the efficacy (early-stage) level; we need effectiveness, dissemination, and cost effectiveness studies to drive large-scale public health impact. We also need to involve policymakers, payers, end users and other stakeholders in research and interventions from the start, asking them what questions they need answered in order to get involved. Ultimately, researchers need to ask themselves: Will this research generate data likely to result in policy or practical improvement in next 3-5 years?
(link to: http://www.tandfonline.com/doi/abs/10.1080/10640266.2015.1034056)
8. More research.
Currently, eating disorder research receives a small fraction of funding compared to other mental health disorders with similar prevalences, such as schizophrenia and bipolar disorder. As a result, we are decades behind these other fields in our neurobiological understandings of these disorders, and have no current treatments that target and reverse the core symptoms. We need to demand more money for research from government and health foundations, as medicine has shown us that understanding the mechanisms that cause disorders is the most effective means of developing effective treatments. More dollars for research will also help us attract future talent into the field—from basic scientists to clinical researchers—to ultimately find a prevention and a cure. We should look to our international colleagues as a good starting point: patient registries in Sweden provide a wealth of research information to understand the long-term trajectory of these disorders, and the German "psychosomatic medicine" track seems to be attracting the top talent in eating disorder neurobiology and genetics. (Link to :http://www.karger.com/Article/FullText/447701)
9. Patients and families need help now.
While the need for research is incredibly important, patients and families need help now, and can't wait years for the next RCT to be published. Further, treatments work best when they are informed by the wants and needs of the individual; we should be continually improving treatments based on patient feedback. By including research in an iterative treatment development process, we can make new and better evidence based treatments.
Signed by:
Tom Insel, S. Bryn Austin, Cynthia Bulik, Evelyn Attia, Walter Kaye, Eric Van Furth, Lara Gregorio, Jenna Tregarthen, Kristina Saffran, & Liana Rosenman
About Project HEAL
Project HEAL is a 501(c)(3) nonprofit organization that raises funds for people with eating disorders who cannot afford treatment, promotes healthy body image and self-esteem, and encourages all people to believe that full recovery from an eating disorder is possible.  Since being founded in 2008, Project HEAL has funded comprehensive recovery journeys for 58 applicants, and opened over 40 chapters across the globe. For more information on Project HEAL, visit http://www.theprojectheal.org.
###