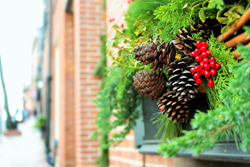 Our new holiday sale gives people the opportunity to share something more than the average store-bought item, but a piece of art.
(PRWEB) October 07, 2016
The holidays are considered a time of giving and reflecting on the values of both family and belief. The team at SilverTribe.com believes the holidays are an important time to celebrate with friends and family. That was the motive behind the company's holiday sale. People that want to find something special for the people they love can come across something modern, elegant, simple, or simply stunning, with jewelry designed by artists that reflect the beauty and passion of the winter season in all its yuletide glory.
SilverTribe.com is responsible for some of the most inspired designs of Native American and Southwestern art. The company works with the creative minds they represent to give their work a platform to reach people around the world. This model is founded on art and customer service. While the company focuses solely on their customers, their artists are free to do what they do best.
The spokesman of the company, Chris Anderson, spoke on the company's behalf. "I think we can all agree that the holidays are the best time of the year. Wherever people are in the world, they can fly to the people they love and spend quality time with their family. Of course, everyone wants to show their love with gifts, it just comes with the package for this time in the year. Our new holiday sale gives people the opportunity to share something more than the average store-bought item, but a piece of art."
The holiday sale Anderson refers to the entirety of artistic pieces that the company has collected over the years to form their collection. Their holiday sale is sitewide and people can take advantage of the "rich turquoise gems set into sterling silver or the vibrant coral pieces that shine with an ocean gleam," added Anderson. Their site features everything from bracelets to necklaces and can't be found anywhere else.
Anderson and his team have made a name for themselves in the jewelry industry because they work with people that are passionate about their art, while the team at SilverTribe.com is passionate about the people that visit their store and helping them find what they need. Their collection and this holiday sale is a way to give back to the community that has built them up so much over the past few years.
People that are interested in unique pieces of Native American or Southwestern art can browse SilverTribe.com and use promo code "20CASHBACK" to receive a discount during their sale (10/14-10/16) this year. Anderson hopes that the holiday sale will encourage people to remember everyone that have touched their lives and keep the holiday spirit going with thoughtful gifts this year.