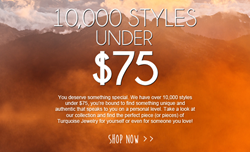 The artists we work with to put together our collection put their heart and soul into these pieces.
(PRWEB) September 26, 2016
Shoppers around the world are most concerned about the art of the deal. "Is this a company I can trust to offer me the best deal?" is the question that most people ask themselves when they shop for the things they want. One company that knows the art of the deal and its importance among savvy shoppers, TurquoiseJewelry.com, has brought a new collection for people looking for quality jewelry at low prices. The company's 10,000 Styles under $75.00 collection is one of their biggest launches of the year and will only last for 48 hours from 9/26-9/28.
TurquoiseJewelry.com is a company that has prided itself on the namesake gem that has been used in jewelry for thousands of years. Turquoise is mined from deposits across the world.
TurquoiseJewelry.com works with artists from the Southwest to bring creative turquoise pieces to the public that are rich with color and innovative designs.
The 10,000 Styles under $75.00 was inspired to stir people that have never heard of TurquoiseJewelry.com to come and try for themselves to see what type of styles and cuts they have for their jewelry. The site features everything from handcrafted bolo ties from talented Native American artists to elaborate necklaces that are made from finely cut turquoise beads.
Jack Burch, the spokesman of the company had a few comments for the company's new collection of jewelry. "People love a good deal, what they hate is the poor quality that often comes with it. Our collection is dedicated to providing people that simply want to look great this year with quality jewelry at a reasonable price. The artists we work with to put together our collection put their heart and soul into these pieces. Unlike companies that manufacture the same piece over again, we know the value of truly unique jewelry."
The team at TurquoiseJewelry.com is excited for newcomers to give their store a try and see what the company has to offer. Along with artist-made jewelry, the company is very proud of their reputation and customer service support team. People that frequent the store have attested to the commitment to both the customer and the quality of jewelry and are never left disappointed.
People can browse the entire collection for 48 hours only. Burch encourages people to hurry to their site before the sale ends or before supplies run out. The team at TurquoiseJewelry.com expects to have a high turnout for this event and hope to see some new faces browsing their collections this year.