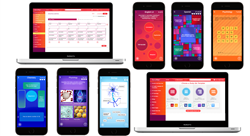 "StudyAce provides new ways for students to gain a comprehensive understanding of course material by building a strong foundation for long-term success," says Maureen Bunney, Co-Founder StudyAce
San Francisco, California (PRWEB) October 06, 2016
StudyAce, a new edtech company founded by a team of seasoned experts, announces the launch of a novel test preparation platform that challenges and engages students through customizable courses, cognitive gaming, flashcards, practice tests and communities.
"Getting into college is harder than ever," says StudyAce Co-Founder, Maureen Bunney. "Students are required to juggle academic demands, extra-curricular and social activities. Yet a student's ability to think holistically and grasp the bigger picture can often be lost in this race to college. That's where StudyAce steps in -- our platform provides new ways for students to gain a comprehensive understanding of course material, by building a strong foundation for long-term success."
StudyAce games introduce new ways of approaching course materials. Each game a student plays broadens their overall understanding of the topic. StudyAce allows students and teachers to use existing or create new learning games: multiple choice, labeling, sorting, spelling and matching. StudyAce is an effective tool, because the games keep students engaged with the content for a longer period of time.
StudyAce games include full courses and study sets in the following subjects:

AP US History
Biology
Chemistry
AP Psychology
AP World History
Algebra 1
AP European History
World Geography
Spanish 1 and 2
Driver's Education (CA, NY, TX)
Geometry and PreAlgebra (Coming Soon)
StudyAce runs on iOS and the Web. The platform offers free game and flashcard makers. Premium features include the use of all course material and range in price from $1.99 to $3.99 per month. StudyAce is also offering a limited number of free trials for teachers to use in their classes. To participate in this program, please contact StudyAce at contact(at)studyace(dot)com.
About StudyAce
StudyAce LLC is a San Francisco, California-based edtech company focused on learning games. StudyAce's mission is to create engaging experiences that improve students' success. That mission is the culmination of years of student and instructor interviews, and expertise in curriculum and game design. Co-Founders, Maureen Bunney and Madeline Schroeder have generated hundreds of millions of dollars in revenue through award-winning technology-based learning games. Through their previous company, Mighty Play LLC, the partners created products for Cengage, several divisions of the Walt Disney Company, Zynga, Common Sense Media, Mattel, among others. Successful products include: Cengage's Mindtap Foundational Math Program, Common Sense Media's Digital Passport, Farmville, Sonic the Hedgehog, and many top Leapfrog learning products for both home and school. MightyPlay also produced original learning products. Schroeder is a former Executive Vice President at Leapfrog, Founder and Executive of Marketing and PD at Crystal Dynamics and Mother of Sonic at Sega. Bunney is former VP of Educational Gaming at Leapfrog and held posts at Scholastic, the Walt Disney Company and Knowledge Adventure.
# # #
For more information, contact:
Madeline Schroeder at contactus(at)studyace(dot)com, 1-650-245-4774, https://www.studyace.com
To review a premium version of StudyAce, we are happy to provide you with an access code. Send requests to contact(at)studyace(dot)com