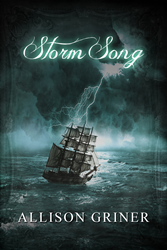 "I was immediately pulled in the moment I started diving into Thoster's world. Fantastic writing! I'm definitely keeping my eyes on this one throughout the G&S contest!" - Alisa King
Indianapolis, Indiana (PRWEB) September 08, 2016
Ziebold Imagery is pleased to share what was discovered on the quest to learn about this mysterious Thoster Chatwyn chatter.
Everywhere, it seems, there is a buzz of people asking questions. Who is Thoster Chatwyn? Have you heard about Storm Song? Where is Merrowport? It turns out that the reason everyone is buzzing has a lot to do with a bit too much drinking, a stone's power, dark magic and lurking secrets.
Storm Song is a fantasy tale written by a local Indianapolis woman, Allison Griner. Griner is breaking creative writing barriers and thrilling her audience. Storm Song was launched on Inkshares as a book contest entry for publishing. There is quite a lot of chatter in a short amount of time surrounding this unknown local author. It warrants your time. Step away from the fantasy games and take a few minutes to support this fantasy novel. Storm Song deserves to win this Geek and Sundry (G&S) fantasy contest and those who take the time to check it out are going to think so too. Anyone that loves adult fiction, attends Gen Con faithfully or is an avid Dungeons and Dragons or other tabletop fantasy games enthusiast will love this book.
"This is my favourite amongst the top ten G&S entries so far." - Michael Burton
"Quite an experience, getting lost in Thoster's fantastical stories and his dangerous and wondrous adventure. I agree with the Geek & Sundry crowd and hope to see a Storm Song chess set, adventure fantasy games and the book made into a film. Yes, it would make a great film." - Sandra Ziebold, CEO | Creative Business Owner
Inkshares is a crowdfunding publisher that gathers pre-orders for books and then publishes and ships them when book order goals are met. The top 3 entries in the contest with the most individual readers who purchase a copy will be published. Anyone who pre-orders will receive a full refund if the pre-order goals are not met. Pre-order prices are $20 for a paperback version and $10 for an E-reader version. Help support by pre-ordering Storm Song for the contest win. Let's make certain Storm Song gets published. This contest ends on October 31, 2016. Pre-order now.
Learn more about the author and follow to stay up on news about Storm Song:
twitter.com/grinerwrites
facebook.com/stormsongnovel
# # #
Ziebold Imagery is a creative agency that provides creative services and also assists creatives with advancing ideation, innovation and entrepreneurial endeavors. Ziebold Imagery is an agency located in Indianapolis, Indiana.