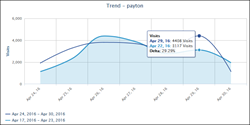 Our focus is on giving customers the analytics tools they need to keep their data, employees, and overall enterprise more secure. -- Dennis McCabe
Melbourne, FL (PRWEB) September 06, 2016
Wavecrest Computing, a leading global provider of advanced Web security management and reporting solutions has announced enhancements to its CyBlock and Cyfin line of products, advanced time online and comparison features.
Expanding on the advanced technology already provided in CyBlock and Cyfin, the time online feature provides the time that a user spends on the Internet in a useful and informative format with easy-to-interpret charts and controls. Find out which users spend the most time online, spot spikes, and analyze this data for productivity issues or bandwidth hogs.
The informative comparison feature adds important visibility into user behavior trends which can alert an administrator to misuse or a potential breach. The feature shows Web activity trends in selected date ranges to find anomalies or spikes in usage, compare series activity by metric such as Visits, or view the percentage change in activity from the previous to the current period.
To find out more about the importance of analytics, insider threats, and employee Web-use security, Wavecrest has recently released the detailed white paper, Implementing Employee Web-use Analytics.
"Our time online and comparison enhancements to Wavecrest's CyBlock and Cyfin product lines add more critical visibility into, and management of, the endless Internet data your enterprise produces. With easy-to-understand management features, you can make these features an integral part of your security plan," explains Dennis McCabe, President and co-founder of Wavecrest Computing. "Our focus is on giving customers the analytics tools they need to keep their data, employees, and overall enterprise more secure."
The new time online and comparison enhancements are available in the latest releases of CyBlock and Cyfin.
About Wavecrest Computing
Celebrating 20 years in business, Wavecrest Computing, headquartered in historic downtown Melbourne, FL, has provided commercial business and government clients with reliable, accurate Web-use management and Cloud Access Security Broker products since 1996. Managed Service Providers, IT specialists, HR professionals, and business managers trust Wavecrest's Cyfin and CyBlock products to manage employee Internet usage -- managing cloud services, reducing liability risks, improving productivity, saving bandwidth, and controlling costs. Wavecrest has clients worldwide, including General Electric, Lockheed Martin, Florida Department of Health, Siemens, Department of Homeland Security, and a growing list of global enterprises and government agencies. We are a proud long-term GSA contract holder. For more information on the company, products, and partners, visit https://www.wavecrest.net.