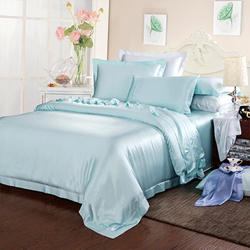 What we have always wanted was to bring this silk magic to everyone, not just wealthy customers
California (PRWEB) April 05, 2017
Silk has always represented luxury. It was traded for gold and gems by kings and emperors for recordable human history. Its ethereal quality is the stuff of dreams. VANSILK™ is a long-time supplier of silk products to big box stores and other retail outlets. Recently, the company made a decision to not only offer wholesales but also retail. The website, http://www.vansilktextile.com, is an online store for silk bedding, sleepwear, underwear, and other silk accessories. The store offers affordable prices, daily deals, and discounts to make ownership of this luxury product affordable for most budgets.
"We love silk. We're in the business of silk. It's one of those luxury products that has a magical quality to it," says company spokesperson Daniel Van. "What we have always wanted was to bring this magic to everyone, not just wealthy customers—everyone. By opening our online store we have made it possible for everyone to have silk products and enjoy that timeless luxury."
From silk robes to silk sheets, VANSILK™ is providing affordable luxury to their customers. Bedding options are both plain and patterned, offering a wide selection for every taste. The Classic collection starts at $178.4 for a complete silk pillowcases. The store has even opened early enough for people to make silk part of their holiday shopping.
For more information about the company or to purchase their luxurious products, visit: http://www.vansilktextile.com