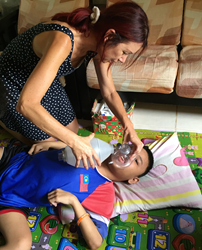 Through our Outreach Initiative we want to bring hope and the best Duchenne care to boys and young men in remote areas around the world
Newport Beach, California (PRWEB) September 07, 2016
The 3rd Annual World Duchenne Awareness Day will take place on September 7, 2016. The 7th day of the 9th month represents the 79 exons in the dystrophin gene that is corrupted in Duchenne muscular dystrophy. Duchenne affects one in 3,500 boys across all races and national boundaries. On World Duchenne Awareness Day, Duchenne charities around the world will raise awareness for children and young men with Duchenne. One such charity, Coalition Duchenne, based in Newport Beach, California, is launching its Outreach Initiative focused on helping pulmonary issues associated with Duchenne.
The Coalition Duchenne Outreach Initiative is aimed at reaching boys and young men with Duchenne in rural areas all over the world. Coalition Duchenne will be providing families and caregivers with a simple respiratory device called an "Ambu Bag" (Artificial Manual Breathing Unit) along with an instructional pamphlet. An Ambu bag can improve pulmonary function in Duchenne. Ambu bags can be used for breath stacking, an important exercise that helps maintain lung function and flexibility. Ambu bags can also be used to clear airways of congestion. Respiratory issues are one of the main reasons that those with Duchenne have a short life expectancy. Muscles throughout the body deteriorate, including the diaphragm which powers pulmonary function.
Coalition Duchenne has established collaborations in Malaysia, India, Ghana, Sudan, Thailand, and the Philippines. "We chose the Malaysia State of Sabah on the island of Borneo to be the first region to receive Ambu bags under the initiative," said Catherine Jayasuriya, Coalition Duchenne's founder and executive director. Coalition Duchenne will collect registry data from Duchenne patients. This will be useful for international researchers and will also allow communication of new drug and care options, as well as offer the potential for earlier diagnosis of Duchenne in remote communities. Early diagnosis is the focus of this year's World Duchenne Awareness Day.
In Sabah, Coalition Duchenne is collaborating with Dr. Heng Hock Sin, a pediatric neurologist at Sabah Women's and Children's Hospital in Sabah's capital Kota Kinabalu. Dr. Heng sees over a dozen boys with Duchenne, several of which are in remote rural areas. One family has three sons with Duchenne. "We are excited to work with doctors from other countries who see Duchenne patients and who care so deeply like Dr. Heng," said Catherine.
Catherine's award winning documentary "Dusty's Trail: Summit of Borneo" (2013) highlights boys with Duchenne in rural Malaysia and contrasts their life with that of her son Dusty Brandom in California who also has Duchenne. This year, "Dusty's Trail" featured as part of Rare Disease Week in Washington D.C. "Dusty's Trail" has secured distribution by Cinema Libre Studios, broadening its message of hope in the face of adversity, and showing the global reach of Duchenne and the need for global solutions.
"In the Internet age we are all so connected. Through our Outreach Initiative we want to bring hope and the best Duchenne care to boys and young men in remote areas around the world," said Catherine.
About Coalition Duchenne
Coalition Duchenne's vision is to change the outcome for boys and young men with Duchenne, to rapidly move forward to a new reality of longer, fulfilled lives, by funding the best opportunities for research and creating awareness. The charity's most recent success has been the promising translation by California biotech Capricor Therapeutics of Coalition Duchenne funded cardiac stem cell research by Eduardo Marban at Cedars Sinai Medical Center in Los Angeles. Coalition Duchenne is also proud that a drug partly based on early research funded by the Dusty Brandom Fellowship at the University of Western Australia is close to approval in the United States. That drug is Sarepta Therapeutics' eteplirsen. For more information about Coalition Duchenne, Catherine Jayasuriya and Dusty Brandom, visit coalitionduchenne.org and dustystrail.com.
About Duchenne muscular dystrophy
Duchenne muscular dystrophy is a progressive muscle wasting disease. It is the most common fatal disease that affects children. Duchenne is caused by a defect in the gene that codes for the protein dystrophin. This is a vital protein that helps connect the muscle fiber to the cell membranes. Without dystrophin, the muscle cells become unstable, are weakened, and lose their functionality. Life expectancy ranges from the mid teenage years to the mid 20's. The minds of boys and young men with Duchenne are unaffected.