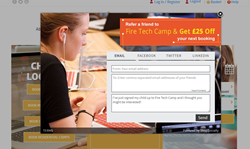 The rollout of ShopSocially's applications has helped us to achieve excellent results this year. - David Long, Director of Technology at Fire Tech Camp
Santa Clara, CA (PRWEB) September 06, 2016
ShopSocially, has confirmed that Fire Tech Camp, a top technology education provider based in the UK, has achieved an exceptional 21.43% sales conversion rate success by using ShopSocially's Refer-a-Friend Program. A striking 9.49% of the total number of website visitors who discovered the powerful app went on to refer their friends. Traffic from the referral posts generated purchases that led to the high sales conversion rate.
"The roll out of ShopSocially's applications has helped us to achieve excellent results this year," explained, David Long, Director of Technology at Fire Tech Camp. "As a recognized leader in the provision of high-quality technology holiday camps, weekend courses and workshops across the United Kingdom, these enhanced online social engagement tools are precisely what we look for."
Visitors can witness the Refer-a-Friend Program in action on the Fire Tech Camp website. The program offers £25 off for each referral. The referral is easily shared via email and social media platforms such as Facebook, Twitter, WhatsApp and LinkedIn. Since friend referral traffic converts at a 3X higher rate, the Refer-a-Friend program can generate up to 15% new customers and up to 5 click backs for every referral. The mobile-friendly design and fully customizable layout can be activated on-demand without any website changes. Comprehensive analytics reveal the levels of engagement, conversion figures, referral stats and overall ROI.
In addition, Fire Tech Camp's use of ShopSocially's Get-an-Email App has resulted in an outstanding 39.22% conversion rate. Even more impressive is that the new email subscribers converted into buying customers at a 35% rate. The power of Get-an-Email App is demonstrated by its ability to achieve 7X higher conversions as website visitors feel that they have "earned" the coupon, and so it is more valuable. Using the Get-an-Email app, businesses should expect to double existing subscriber numbers within months. The rule-based targeting engine manages exactly when and where the app is shown. Sophisticated personalization allows various messages to be deployed based on demographics or purchase history.
"We are delighted with the noteworthy results that both the Refer-a-Friend and Get-an-Email apps have delivered for Fire Tech Camp," said, Samir Palnitkar, President at ShopSocially. "It is great to enable the power of social commerce for a wide variety of online retailers."
About Fire Tech Camp:
Fire Tech Camp equips children around the United Kingdom with the tools and knowledge to create something amazing through creativity, innovation, and technology. The Daily Mail named us in the Top 10 Children's Summer Activity Camps of 2016 and we were also named Top 14 Best Residential Summer Camps for Kids 2016 by Essential Surrey & SW London Magazine. We are proud to run a popular scholarship fund so that every child has an opportunity to experience Fire Tech Camp. Explore: https://www.firetechcamp.com/
About ShopSocially:
ShopSocially is a SaaS-based, social, referral and loyalty marketing platform that delivers up to 40% more revenue by enabling an increase in new customer acquisition, engagement, conversion rate and retention. More than 500 global brands are using ShopSocially to grow their business via proven strategies such as referral marketing, visual commerce, customer loyalty, social login, social gamification, customer Q&A and more.
ShopSocially platform offers a comprehensive suite of marketing solutions which eliminates the need to implement multiple, inconsistent solutions and delivers a measurable ROI. Our fully managed service option ensures no additional work for your marketing or IT team.
ShopSocially has won several awards and recognition's for its innovative technology. To learn more how ShopSocially can help grow your business, please contact us at (650) 701-7759 or at http://www.ShopSocially.com