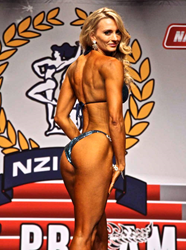 "A human, who honors their own soul first is of much better service to the world."
(PRWEB) September 07, 2016
Anna Trubuhovich announces the launch of her coaching brand and is committed to sharing her mission.
With a deep desire for people to experience life in all its glorious detail, fulfill their deepest desires, and leave this world with no regrets, Anna Trubuhovich is on a mission to change the world and take people on a journey of self-discovery and empowerment.
"A human, who honors their own soul first is of much better service to the world," Trubuhovich explains.
After years of training and studying the complexities of the human thinking and behavior, Trubuhovich has harnessed a unique way of awakening peoples' desires and tackling life head on. "My goal is to create a tribe of Life Hunters, who aren't afraid of meeting life head on, setting wild audacious goals, and having huge amounts of fun while positively impacting their community along the way", says Trubuhovich.
'Experiences' and living life to the fullest are two things that Trubuhovich advocates. She's a real go-getter, who is a true believer in "people acknowledging and honoring their dreams". As a self-confessed 'junkie' when it comes to living a fun-filled sensory life, she continues to seek out her own new experiences and push all internal boundaries.
Running marathons, doing triathlons, playing DJ sets at international festivals and gigs, participating in body sculpting competitions, giving presentations, and living all around the world, Trubuhovich's life has been nothing short of colorful. When speaking of her accomplishments, Trubuhovich keeps it real: "There's no better full sensory rush than throwing your body, heart and soul into something, completing it, and knowing you're now changed forever."
Having recently launched her new brand and personal coaching business, she's ready to "rock the world". To her, change is imperative to enable people to reach their higher self. Without judgment, she encourages her clients, and anyone else who's around for that matter, to strive for what "turns them on", and in particular take on more physical challenges. "Not only do physical challenges help transform your body, they're also excellent tools for learning more about yourself on a deeper level," she explains.
Challenging oneself is her mantra. "Physical challenges, whether it's running a marathon, body sculpting, or climbing a mountain all require the same things – commitment, public accountability, consistency, making sacrifices, and staying true to your word".
Trubuhovich has experienced her fair share of physical challenges and describes completing them as an "adrenaline rush". With the launch of her new exciting coaching business and brand Anna Trubuhovich International, she's more than ready to take her clients on a journey of self-discovery. Setting goals, being held accountable, and celebrating those challenges once they've been conquered are all part and parcel of what she offers.
Her clients range in ages and come from all around the world. She describes the people she works with as "bright shining lights within their community". "They're progressive, they're quirky, and they've got this indescribable childlike infectious energy".
Trubuhovich's unique coaching packages are available to participants who are ready to take on new challenges, honor their dreams and set life-changing goals. She's launching a range of new exciting products and services, which have been uniquely designed to bring out the very best in people, and of course, Trubuhovich is there, every step of the way, offering her support.
To find out how you can positively impact your life today, please visit: http://www.annatrubuhovich.com
About Anna Trubuhovich:
A life coach and educator, Anna Trubuhovich is creating a global impact. Her vision is simple – to facilitate positive change and growth by overcoming challenges, fears, obstacles and self-limiting beliefs. Changing lives for the better, Anna Trubuhovich is no stranger to hard work. With a positive mind-set and a willingness to push boundaries, she has created a network of loyal followers who have all benefited from working with her. She thrives on creating change and bringing about success and happiness within others; this is what empowers her to continue on her mission.