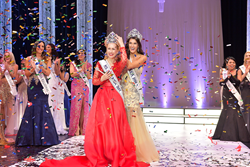 Brea, California (PRWEB) September 06, 2016
Oksana Vovk from Newport Beach, California was crowned Ms. America® 2017 at the national pageant held Saturday, September 3, 2016 at the Curtis Theater in Brea, California.
The Ms. America® Pageant is for women 26 years of age and up who are single, divorced, married, widowed, with or without children. Forty-three State and Regional titleholders from across the United States competed in four areas of competition: Evening Gown, Interview, Sportswear and Finalist On-Stage Question that are each worth 25% of their total score.
Vovk's walk across the stage to accept the crown as Ms. America® 2017 marked her first steps on a journey that will take her from spotlight to spotlight representing an organization that enriches the lives of women across the country, who are passionate about giving back to others through philanthropic endeavors being the inspiration that helps others achieve their dreams.
Oksana earned her Juris Doctor degree at 23 and was on the National Dean's Honor List. She has been a successful defense attorney for the past 13 years. Three words that describe her are "A Real American". As a single mother of a son with autism, she learned that perseverance is her middle name and unconditional love can overcome any diagnosis. Oksana's never-ending drive for the higher ground brought her to Ms. America Pageant. She is a multi-faceted person, who also loves to dance, sing, and design and speaks 3 languages. Her motto is: "Where there is a will, there is a way!"
This year, the Contestants and National Titleholders have together made over 700 appearances which contributed to over 2000 volunteer service hours. For the first time in the history of the Ms. America® Pageant, all contestants in the pageant received the Presidential Volunteer Service Award for the documented volunteer hours the contestants accumulated this past year. All 43 qualified for the highest award given to a group which is the Gold Award; each contestant received a gold medal, certificate, and a letter signed from the President of the United States on White House stationery.
Live streaming was provided by AlertTheGlobe.com starting with the preliminary competition, the Red Carpet - hosted by Lisa Hart of Discover Orange County and the Ms. America® Pageant with hosts Stephanie Mills-Ms. America 2015 and Scott Stewart, the host and producer of the TV show "What's Up Orange County" that airs on KDOC, Time Warner and Cox Communication.
Rebroadcast of the entire pageant will be shown again on http://www.AlertTheGlobe.com on Wednesday, September 7, 2016 starting at 7:30pm (PST).
Ms. America® 2017 first runner-up is Jessica Mason, Ms. Michigan State; second runner-up is Lereca Monik, Ms. Texas; third runner-up is Dreamy Patel, Ms. Southeast America; and fourth runner-up is Dee Lane, Ms. Florida.
The 2017 Ms. America International, the People's Choice Award went to Nova Kopp, Ms. Georgia. This prestigious title must not only represent the pageant but also the Ms. America® fans as well. Kopp was chosen by receiving the most votes online.
Ms. America International 2017 went to Tracy Lynn Rodgers, Ms. Nevada State. Ms. America International represents women 40 years of age and up who are single divorced or married with a dedicated platform or cause they are an advocate for.
Major Sponsors for the Ms. America® Pageant are Bella K, Just Pure Essentials, Planet Home Lending, Episkinz, True Elegance, Bling It!, Locks & Lashes, Orrick, Claire's Collection, and Apollo Printing.
Richard Simon from Houston, Texas founded The Ms. America® Pageant in 1997. The first pageant was held on December 4, 1997 at the Luxor Hotel in Las Vegas. Contestants competed representing their state in the pageant; Susan Jeske from Colorado was crowned the first Ms. America®. Ms. Jeske became the owner of the pageant in 1999.
To schedule an appearance for 2017 Ms. America®, please contact the pageant at: MsAmericaPageant@aol.com or call 949.679.8888
2017 SPECIAL AWARDS:
Internet Voting Award – Nova Kopp, Ms. Georgia
Spirit of America – Lereca Monik, Ms. Texas
Power of the Crown – Tina Brandon Abbatangelo, Ms. Nevada
Crown for a Purpose – Sheri Jekins, Ms. Delaware
Media Award – Thuy Huyen, Ms. Oregon
Woman of Distinction – Jessica Mason, Ms. Michigan State
Photogenic Award – Oksana Vovk, Ms. California Coast
Congeniality Award – Crystal Dawn Richardson, Ms. New Jersey
Community Service Award – Tatiana Matta, Ms. Pacific Coast
The Ms. America® Pageant is a registered federal trademark with the USPTO in Washington DC since February 2000. For more information, go to http://www.MsAmericaPageant.com. Connect with the Ms. America® Pageant on Facebook:http://www.Facebook.com/MsAmericaPageant and on Twitter at http://www.Twitter.com/MsAmerica.
For media inquiries and interviews, please contact Kelly Bennett of Bennett Unlimited PR (949) 463-6383 or kelly@bpunlimited.com.