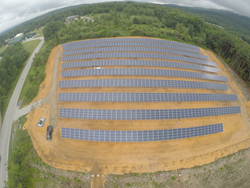 SPI 2016 guests will have the opportunity to see RBI Solar's newest solar mounting solution, the next generation ground mount.
Cincinnati, OH (PRWEB) September 06, 2016
RBI Solar, Inc., a Cincinnati-based solar mounting solutions provider, will be exhibiting at Solar Power International (SPI) in Las Vegas, Nevada from September 12 through September 15. This four-day event features opportunities for meeting other solar industry professionals, attending educational sessions, and partaking in social events at the Las Vegas Convention Center.
RBI Solar has complementary exhibit hall passes for SPI 2016 available for interested solar professionals. These passes provide access to all three days (September 13-September 15) of the solar expo hall, where guests can meet companies from all areas of the solar industry and discover the latest solar innovations. To request a free exhibit hall pass, contact info(at)rbisolar(dot)com or call (513) 242-2051. SPI 2016 guests will have the opportunity to see RBI Solar's newest solar mounting solution, the next generation ground mount. This model, which includes a broader selection of component parts that are specifically designed to make installation more affordable for utility-scale and commercial ground mount solar projects, will be available for viewing and demonstrations at booth 811.
About RBI Solar:
RBI Solar, Inc. is the leading turn-key supplier of solar mounting systems. As a specialist in ground mount, roof mount, carport, and landfill solar structures, RBI Solar focuses on providing the most robust solar racking systems, installation services, and project management capabilities to serve owners and integrators. RBI Solar has engineers and staff licensed in all 50 states and offers complete design, high-tech manufacturing, nationwide installation, and technical support to help solve the toughest challenges in the industry. Leveraging over 80 years of experience in the commercial design-build specialty structures market, RBI Solar works with its clients to identify the most economic and durable solar mounting solutions.
About Solar Power International:
Solar Power International (SPI) is the largest solar trade show in North America. SPI focuses on creating an environment that fosters the exchange of ideas, knowledge and expertise for furthering solar energy development in the United States. In 2015 SPI was awarded as the Most Engaging Show Floor and has been a Gold 100 trade show six years in a row by Trade Show Executive Magazine. SPI is ranked #101 in the top 250 largest trade shows by Trade Show News Network.