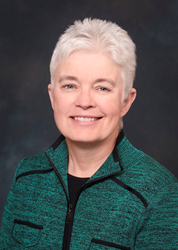 Kansas City, MO (PRWEB) September 06, 2016
Becker's Hospital Review released today the 2016 edition of its list of "110 Physician Leaders of Hospitals and Health Systems," featuring hospital and health system presidents and CEOs who hold medical degrees. Melinda L. Estes, M.D., MBA, president and CEO of Saint Luke's Health System has been named to the list.
Becker's Hospital Review has published a version of this list every year since 2010, and this is the fourth time the list has included 100 leaders or more. Dr. Estes, a board-certified neurologist and neuropathologist, was first named to this list in 2012 and has been named each year since. She is the only physician leader from the Kansas City area to appear this year Leaders were selected based on editorial judgment and discretion. Nominations were also considered when making selections for this list. Dr. Estes was also recently recognized by Becker's as one of the "12 Female CEOs Making Their Mark in Healthcare."
Dr. Estes became president and CEO of Saint Luke's Health System in September 2011 and is an accomplished leader experienced in clinical and academic medicine, as well as hospital administration. As president and CEO, Dr. Estes leads a 10-hospital, faith based, aligned health system committed to the highest levels of excellence and quality. During her tenure at Saint Luke's, Dr. Estes has excelled at streamlining best practices across the system, and improving processes to increase efficiency while maintaining the highest level of clinical excellence. In addition, Dr. Estes has been responsible for improving access to care across the health system with the expansion of primary care practices, the creation of multispecialty clinics and the launch of a mobile e-health option for care.
Previously, Dr. Estes was president and CEO of Fletcher Allen Health Care, an academic medical center serving Vermont and northern New York, where she effectively guided the health system back to financial health while expanding services, forging alliances and implementing an extensive strategic planning process. Prior to that, she served in a leadership position at the Cleveland Clinic Florida in Weston and Naples.
The full list can be read here - http://bit.ly/2bjIR45 - and features individual profiles of all 110 physician leaders.
Saint Luke's Health System
Saint Luke's Health System consists of 10 area hospitals and several primary and specialty care practices, and provides a range of inpatient, outpatient, and home care services. Founded as a faith-based, not-for-profit organization, our mission includes a commitment to the highest levels of excellence in health care and the advancement of medical research and education. The health system is an aligned organization in which the physicians and hospitals assume responsibility for enhancing the physical, mental, and spiritual health of people in the Kansas City metropolitan area and the surrounding region.
About Becker's Hospital Review
Becker's Hospital Review is a monthly publication offering up-to-date business and legal news and analysis relating to hospitals and health systems. Content is geared toward high-level hospital leaders, and we work to provide valuable content, including hospital and health system news, best practices and legal guidance specifically for these decision-makers. Each issue of Becker's Hospital Review reaches more than 18,000 people, primarily acute care hospital CEOs, CFOs and CIOs.