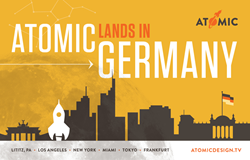 Lititz, PA (PRWEB) September 08, 2016
ATOMIC, a creative company providing rental solutions, set construction, design and production services for the live event industry, announces a new Rental Solutions office in Frankfurt, Germany. Team ATOMIC has partnered with GAHRENS + BATTERMANN to bring our patented, award-winning scenic rental solutions to the European market. GAHRENS + BATTERMANN is a service provider in the field of event technology; as a media technology provider, G+B is the ideal partner for ATOMIC.
With global clients including The Tonight Show, Verizon, NFL, The Talk, Facebook, The GRAMMYs, Summer Sonic Music Festival and Electric Forest Festival, ATOMIC Rental Solutions is continuing to expand its inventory and international distribution area. The ultimate goal for Team ATOMIC is to better serve clients anywhere in the world with the best rental products. In the past year and a half, the Rental Solutions department launched 22 new products, including the brand new product line, FABlok. Entering the European market is the natural next step for ATOMIC, with former Producer Felix Nuyten re-joining the team as Director, Rental Solutions Europe. Established in 1983, G+B has been supplying tailor-made solutions for all types of events. Today, the core areas of expertise include all aspects of media technology – from video, audio and lighting, right through to IT. Achtung, fertig, los! ATOMIC is excited to go live in Europe with G+B.
"Our team is thrilled to expand across the globe so rapidly. Our Germany location is opening just nine months after the new office in Tokyo and we'll keep expanding as the international markets demand our product. All of the rental products are being designed, prototyped and built right here in Lititz, PA and then shipped to Frankfurt," says Rob Barber, Vice President of ATOMIC Rental Solutions.
"The Frankfurt warehouse currently offers classic products like Wafers, Chiclets and Pyramids. By the end of 2016, the product offerings will include 19 more SuperLever panels and our SuperZipper product line," says Barber.
Contact the Rental Solutions team today by calling 717.626.4408 or visiting http://www.atomicdesign.tv/contact/locations/department/rental/. Ready to say "willkommen" to ATOMIC in Germany? Call (+49) 179.778.3169 or email Frankfurt(at)atomicdesign.tv.
About ATOMIC:
Headquartered in Lititz, PA, ATOMIC is a creative company in the business of live events and environments for entertainment and brand communication. ATOMIC has a diverse collection of creatives. Our team of producers, designers, engineers, moviemakers, artists, storytellers, technicians and craftsmen provide set construction, rental solutions, design and production services to clients across the globe. Established in 1994, ATOMIC is rooted in the rock & roll industry, joining Clair Global and TAIT in Lititz, PA as part of the Rock Lititz industry cluster. Now with a presence in Los Angeles, New York, Miami, and Tokyo, ATOMIC serves clients from television networks to global brands to designers and artists. ATOMIC drives each project forward. No Surprises. Unique Results. For more information on ATOMIC, please visit http://www.atomicdesign.tv