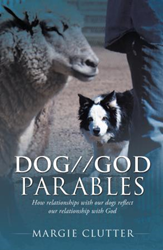 ... gain a new perspective on 'walking with the Lord' and an increased appreciation of those marvelous created beings, our dogs
Boonville, IN (PRWEB) September 08, 2016
Margie Clutter's new book, DOG//GOD Parables - How Relationships With Our Dogs Reflect Our Relationship With God, ($14.99, paperback, 9781624194627; $7.49, e-book, 9781624194634) is packed with dog training tips in every chapter, challenging readers to explore and expand their relationship with their dog(s). However, the author takes this important lesson one step further. She employs the same proven dog training principles to help readers evoke a deeper relationship with the Creator. According to the author, people often respond to God the same way that dogs respond to humans – confused, distracted, and disobedient. Margie Clutter's strong Christian faith and proven dog training ability has given her a unique perspective on relationships between dogs and humans, and humans and God. The result is this collection of practical, scriptural, modern-day parables for spiritual growth in one's relationship with God.
Readers first learn about the depth of communication and partnership possible between dogs and their masters. Second, readers are challenged to examine their own communication and partnership with God through study of Scripture and the examples just presented using dogs' reactions to life events. As a human expects a dog to respond to his master, so humans must learn to respond to their Master. This is a must have book for dog lovers and Christians seeking to walk more closely with the Lord in everyday, practical life situations.
"I hope readers will gain a new perspective on 'walking with the Lord' and an increased appreciation of those marvelous created beings, our dogs," states the author. "God speaks to us very clearly through His creation if we are open to listening! The positive training tips presented can be applied both to developing better interactions with our dogs, and to increasing our own sensitivity to how the Lord directs our lives."
Margie Clutter has been an avid student of Christian scriptures and a dog trainer for over 35 years. She has trained several breeds of dogs to obedience, rally, agility, flyball and herding titles. She has also trained and judged many 4-H kids and their dogs. Currently, she is a licensed AKC and AHBA herding judge. Margie has trained and handled her own dogs to multiple herding championships, an agility championship, Companion Dog Excellent in obedience, and multiple Rally Excellent titles. Training her dogs in several dog sports has provided Margie with added insight into the partnership created between master and dog.
Along the path of her spiritual journey, Margie encountered the God of the Bible and His Son, Jesus Christ. This book is the result of melding two passions in her life: the desire to learn to walk in a way that pleases her heavenly Father, and her love of training dogs. Margie works as a home care RN in Indiana. She lives on a mini-farm with sheep, ducks, geese, and her dogs. Margie's adopted son, Tony, is now grown and has his own wonderful family.
Xulon Press, a division of Salem Media Group, is the world's largest Christian self-publisher, with more than 15,000 titles published to date. Retailers may order DOG//GOD Parables - How Relationships With Our Dogs Reflect Our Relationship With God through Ingram Book Company and/or Spring Arbor Book Distributors. The book is available online through xulonpress.com/bookstore, amazon.com, and barnesandnoble.com.
Media Contact: Margie Clutter
Email: winthropbcs(at)gmail(dot)com
Website: http://www.winthropbcs.com