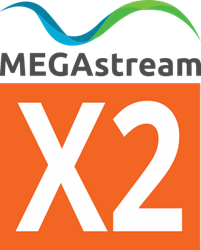 For the first time, MEGAstream X2 gives an enterprise's sales and marketing professionals infinite content control and measurable real-world insights into exactly who's doing what across their entire sales and marketing channel. – Sanjay Shukla
INDIANAPOLIS, Ind., USA (PRWEB) September 07, 2016
MEGAstream LLC, a U.S. software developer, technology consultancy and online web and marketing firm providing effective business solutions for more than 20 years, today announced the release of its MEGAstream X2 cloud-based sales and marketing solution. The new MEGAstream X2 software application is designed for sales and marketing departments that want to optimize selling behaviors and exercise precise branded content control throughout their sales channels of dealers, distributors, reps and agents.
Since time immemorial, organizations that have relied upon diversified, external channels to market and sell their products have had to contend with a lack of both control and insight when it came to their channel partners. Simply put, once marketing materials had been distributed and sales edicts communicated, most sales and marketing departments were essentially rendered blind to what happened next, resulting in a lack of comprehension, accountability and actionable data.
The MEGAstream X2 app is specifically designed to address the age-old problem of projecting the correct brand promise and sales message throughout the depth and breadth of an organization's internal and external sales and marketing channels. MEGAstream X2 also allows sales and marketing professionals to engage with and enable their channel like never before, while viewing and analyzing the use of brand content within the sales process, all the way down to the prospect.
"The volume and velocity of sales and marketing content are constantly rising and as a result, create new knowledge management challenges relating to legal and brand message compliance," Sanjay Shukla, CEO of MEGAstream Media, said. "For the first time, MEGAstream X2 gives an enterprise's sales and marketing professionals infinite content control and measurable real-world insights into exactly who's doing what across their entire sales and marketing channel.
With MEGAstream X2 there is something for everyone in the channel. An organization's sales and marketing department gains granular control of all content and communications distribution, and can monitor campaign deployment and response in real time, from cradle to grave, via the app's dashboard features. Channel partners and internal stakeholders enjoy having mobile device access to all the tools, training and technology they need to market and sell at an optimal level.
"MEGAstream X2 gives us a tremendous advantage over our competition and helps us stand apart from the other manufacturers in our industry," Jeffrey Reinert, president & CEO of INDEX Corporation, said. "Our distributors and reps have all of the sales tools conveniently at their fingertips and consequently make more sales. The company makes more profit and our distributors and reps make more commissions, so everybody wins."
Other software offerings focus on individual segments of the sales and marketing channel like internal stakeholders, or specific functions like email. MEGAstream X2 is a cloud-based software application designed exclusively to empower sales and marketing departments to manage their entire channel, including internal stakeholders, dealers, distributors, reps and agents.
With MEGAstream X2 cloud-based app, an enterprise can:
1. Take control of sales and marketing channels: Organize and manage all dealer, distributor, rep and agent sales and marketing efforts from a single application dashboard
2. Administrate content and sales messaging like never before: Electronically distribute and track all sales and marketing content –– including catalogs, data sheets, new product announcements, videos and more –– and easily create, distribute and monitor online forms like lead sheets, sample requests, promos and sales orders with live signature capabilities
3. Publish live online catalogs to any channel partners' websites: With X2's unique catalog widget, visitors to channel partners' websites see up-to-date catalog information
4. Universally update content: New and revised content updates automatically across the entire platform, so everyone in the channel always has the latest version
5. Promote convenience and compliance: Allow mobile access to all marketing materials without an internet connection via their favorite devices, like phones, tablets and PCs
6. Leverage legacy CRM data for smart lead targeting: Sophisticated email capabilities allow up-to-date channel databases to be easily imported from existing CRM systems for each campaign
7. Provide basic CRM capabilities to channel partners: Built-in CRM-LITE functionality allows users to track their prospect information
8. Gain deep insight into channel partner behaviors: Observe cross-channel communication and see who is interacting with what content, how and why
9. Create a competitive advantage: Competing products are often vying for the attention of channel partners, and the powerful and effective MEGAstream X2 platform sets it and its users apart from everything else
10. Manage sales and marketing in multiple languages: International brands can use MEGAstream X2's language capabilities to support multilingual channel partners speaking English, German, French, Spanish, Portuguese and more
MEGAstream X2 offers organizations practical sales and marketing automation software that can take them from a 35,000-foot view, all the way down to the ground level of their sales and marketing channel, allowing them to respond accordingly. MEGAstream X2 is available for sale as of September 7, 2016.
For general information on MEGAstream X2 sales, please contact MEGAstream at (317) 582-0244, or visit: http://megastreamx2.com
To read more about MEGAstream X2 product features, please visit:
http://megastreamx2.com
For a complete list of MEGAstream X2 product features, please visit:
http://megastreamx2.com
To view a video describing the new MEGAstream X2 application, please visit:
http://megastreamx2.com

About MEGAstream LLC
MEGAstream LLC has more than 20 years of experience in providing digital marketing, production and distribution services. The company brings the diversity of its expertise across a wide range of market segments. The organization comprises a team of creative technologists providing resources, media solutions and technical services to wide range of organizations and industries. The company offers is clients the strategic advantage of leveraging different disciplines of design, programming and marketing technology. We have integrated teams to augment your projects for the superior execution of assignments. MEGAstream is driven by the way it deploys its marketing expertise, utilizes technology, and customizes its marketing products and programs. MEGAstream delivers innovative and optimized digital content, customized content delivery vehicles, client development and marketing analytics solutions for clients around the world. The company has developed many applications for a diverse range of industries including applications for eCommerce, customer and support portals, and inventory management systems. Learn more at http://megastreamx2.com.
MEGAstream X2 is a trademark of MEGAstream.