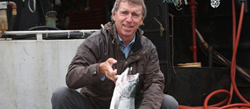 Duke's Chowder House takes pride in using only the freshest ingredients, practicing the highest industry safety standards, and creating delicious recipes.
Seattle, WA (PRWEB) September 13, 2016
Duke's Chowder House, owned and operated by Duke Moscrip and his son John Moscrip, is an award-winning sustainable seafood restaurant company based in the greater Seattle region. But it takes more than the highest quality, sustainably-sourced seafood to run a restaurant smoothly.
It takes so much more — high quality food ingredients from a wide variety of local farmers, vendors, and businesses, both small and large. That's why Duke's Chowder House would like to highlight partnerships with local businesses and vendors that make this sustainable seafood franchise possible.
Duke's Chowder House sources the following ingredients and products:

Homegrown, fresh zucchini served during peak season (June through September) from Burr Mosby of Mosby Farms in Auburn, WA;
Creamy butter (used in nearly all of Duke's chowders) from Darigold, a full line, local dairy operation;
Extra Sharp White Cheddar and Jarlsberg Cheese from Tillamook, a dairy co-op based in Oregon;
Penn Cove Mussels from Penn Cove Shellfish, a leading provider of sustainably farmed shellfish;
Dungeness Crab from the Washington and Oregon coast;
Washington Blackberries from Sterino Farms, a farm in Fife, Washington;
Coffee from Caffe Ladro, a Seattle-based sustainable coffee operation with 15 locations;
Tea from Tazo Tea Company, a manufacturer and distributor founded in Portland, OR (now a division of Starbucks);
Sodas from Seattle Soda Co., including Cola, Diet Cola, Lemon-Lime, and Seasonal (Rotating) flavors;
Thomas Kemper Root Beer from the Thomas Kemper Soda Company, based in Portland, OR;
Cock 'n Bull Ginger Beer "bottled and distributed by Orca Beverage Inc. purveyors of Classic American beverages sweetened with pure cane sugar," based in Seattle, WA;
Carefully selected local WA wines by the bottle at an unbelievable value from several local wineries;
Tortilla chips and salsa (Duke says, "the best he has ever tasted.") from Ryan Hershey of Penny's Salsa based out of, Auburn, WA;
Gluten free, non-GMO, vegan buns from Shambala Ancient Grain Bakery in Mount Vernon, WA;
Gluten free, handmade ice cream and sorbet, carefully and meticulously selected from Lopez Island Creamery in Anacortes, WA;
Sourdough and rosemary breads, "I Want You So Bad" Marionberry Pie, "What's Her Name's" Carrot Cupcakes, and Pier Pie from The Essential Baking Company. This small startup outgrew its humble beginnings and now services the Pacific Northwest with only USDA Organic and Non-GMO Project Verified artisan breads.
Duke's Chowder House takes pride in using only the freshest ingredients, practicing the highest industry safety standards, and creating delicious recipes.
The Duke's Chowder House experience would not be complete without its strong communal ties and locally sourced ingredients.
About Duke's Chowder House:
Duke's Chowder House is a family owned and operated enterprise with six different locations throughout the Puget Sound region. Renowned for its Award Winning Clam Chowder, Duke's menu is filled with delectable seafood dishes crafted by Duke and Duke's very own Executive Chef "Wild" Bill Ranniger–a proclaimed culinary genius in the region. Founder and Owner Duke Moscrip – together with his son and partner John Moscrip – continue their passionate journey to source all wild, natural, healthy and fresh tasting ingredients. Duke's food is free of hormones, antibiotics and harmful chemicals. Duke's is an upscale, casual Pacific NW seafood concept offering signature, flavorful, 100% sustainable wild seafood, Award Winning Chowder and grass fed burgers. Guests sum up their favorable assessment of what Duke's Chowder House has to offer with three words: "It's sooo good!" Duke's is honored to have received the highest seafood restaurant rating in the State of Washington by Fish2Fork, a leading evaluator of worldwide sustainable seafood restaurants, garnering a 4.5 out of 5 (no higher rating in the world). Duke's is equally honored to be among the first restaurants in Seattle to be recognized with a 100 percent volume compliance sustainable seafood rating from Smart Catch, a program designed to promote sustainability and raise consumer awareness regarding sustainable seafood options. Learn more at http://www.dukeschowderhouse.com/.