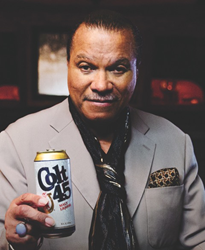 Los Angeles, CA (PRWEB) September 07, 2016
Colt 45 has received tens of thousands of contest submissions, along with thousands of Instagram, Facebook, and Twitter call outs, all in support of the recent reuniting of Billy Dee Williams with his longtime beer of choice, Colt 45.
Billy Dee, who became the face of Colt 45 in a groundbreaking advertising campaign throughout the '80s and in the process helped elevate Colt 45 to #1 in malt liquor category sales, returned earlier this year to once again serve as an ambassador for the brand.
Three months ago Colt 45 began featuring the image of Billy Dee on the can itself, which launched a special call-to-win series, opening the door for fans to call and enter for a chance to hang out with Billy Dee at his very intimate Hollywood Lounge party.
Colt 45 & Billy Dee's exclusive Lounge Party will be held on Friday September 16th, 2016 at a secluded estate in the posh hills of Hollywood, CA. Guests will toast Colt 45 with Billy Dee and get an intimate glimpse of his storied lifestyle. The event is not to be missed.
It the '80s, the first Billy Dee-Colt 45 collaboration coined the era-defining phrase, "works every time." More recently it was Dan McHugh, Chief Marketing Officer for Pabst Brewing Company, who said the phrase will live on through the 2016 campaign, "because Billy Dee works every time.
"He is the definition of class, style and charm," McHugh said of the actor. "Everyone wants to drink a Colt 45 with Billy Dee.
And now a handful of lucky people and members of the media will have that chance.
When asked of the success of the campaign McHugh stated, "Billy is a legend, what else is there to say?"
ABOUT COLT 45 MALT LIQUOR: Colt 45 is a premium alcoholic malt beverage that is timeless, smooth, and meant to be savored with friends. Ask for it wherever beer is sold and learn more at http://colt45maltliquor.com/.
Media Contacts:
Larry Fink
Email: larry(at)1on1pr(dot)com
Phone: 702-249-8586