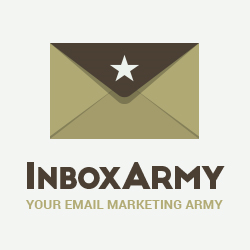 Your Email Marketing Army
Dallas, TX (PRWEB) September 08, 2016
InboxArmy, the new Dallas-based full-service email marketing agency, launched today, officially offering their transparent, easy-to-understand email marketing service packages to businesses of all sizes.
"Over the past 10 years of speaking with mid-sized and larger businesses, I've found one common thread: Businesses don't use agencies because they assume they are too expensive because they can't find pricing upfront," said Christopher Donald, Managing Partner and President of Operations for InboxArmy. "Our belief is that by putting our pricing upfront whenever possible, businesses will have a higher level of trust right from the beginning."
Founded by email marketing veterans, InboxArmy's trademark services include email template design and coding, email campaign management, email marketing audits and strategy consulting, and custom email marketing project services including email automation and systems integrations.
Scott Cohen, Vice President of Client Services for InboxArmy, added, "We feel we have nothing to hide with our services and our pricing. Our packages can scale to our clients' resource needs as well as budgets. We can truly become your email marketing army."
"We like to tell prospective clients that by engaging with InboxArmy, they'll get an expert team for often less than the price of a full-time employee," said Vishal Yagnik, InboxArmy's Director of Production. "Our service packages are customizable as need be and very affordable."
All InboxArmy service packages include dedicated account management, multi-ESP platform support and expertise, pixel-perfect HTML code, and resource savings.
About InboxArmy
InboxArmy is an elite, full-service email marketing agency offering the full spectrum of email marketing services, including custom email template design and coding, campaign setup and deployment, email marketing strategy, email automation, custom integrations and programming, and much more. The Dallas-based email marketing agency works with brands of all sizes, agencies, and email service providers to deliver best-in-class quality service, production, and support.
For more information on InboxArmy, visit InboxArmy's website at http://www.inboxarmy.com or call toll-free 1-800-276-9253