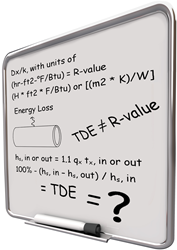 TDE is not an actionable material property...There is no recognized definition and no design method or calculation that uses TDE.
Post Falls, Idaho (PRWEB) September 07, 2016
Commercial duct manufacturer, Spunstrand, announced the publication of a new White Paper titled, Does TDE Have Any Value? to take aim at the concept of Thermal Distribution Efficiency or TDE, which has caused an ongoing HVAC industry debate. Recently, the International Code Council - Evaluation Service (ICC-ES) mandated the use of ASTM C518 for the determination of R-value for duct products. Yet there remains a contention that Thermal Distribution Efficiency or TDE, is somehow equivalent or even superior to R-value.
Despite the published ICC-ES change, one competing manufacturer continues to represent and promote its TDE listed product as equivalent to an R-value rated product, also claiming that TDE determines Energy Conservation Capability and is therefore a more complete evaluation for how a duct will perform to save energy.
The White Paper can be downloaded at http://www.tdeexplained.com.
While HVAC product listers, design engineers, inspectors and building owners may not be aware of the debate or the recent ICC-ES updated delineation between R-value and TDE, Spunstrand representatives assert that a more fundamental problem must be addressed. That is, TDE offers little value to the industry and should be removed as a listing and prevented from becoming a part of Code.
Does TDE Have Any Value? states that TDE uses a faulty formula and a faulty testing method, cannot determine Energy Conservation Capability, cannot be linked to R-value in any way and ultimately has almost no engineering value for use. The document points to confusion amongst engineering professionals and a marketing mire for end users who are not trained to understand the deficiencies of the TDE listed underground duct work they are purchasing.
"TDE is not an actionable material property," Spunstrand Vice President of Sales & Marketing, Charles Stock, stated. "There is no recognized definition and no design method or calculation that uses TDE. In addition, NSF's Protocol P374 is not a consensus based testing protocol. It is limited at best and possesses easily manipulated parameters."
As a result, the Spunstrand assertion is that the ICC-ES update distinguishing R-value and TDE is insufficient and does not prevent inferior products from being promoted and sold and installed as R rated insulated ductwork.
"R-value is a basic material characteristic that is proven and trusted," stated Stock. "R-value has industry recognition, peer review and a basis in consensus, which is why it must be used wherever known insulation performance is required."
The White Paper cites Spunstrand's recent test of its own uninsulated underground duct product compared to an R10 insulated product. Using a respected third party testing facility and testing in accordance with NSF Protocol P374, Spunstrand proceeded with the test to determine how a TDE rated product would actually compare to an R10 rated control product.
"We used our single wall uninsulated 10-inch fiberglass duct (FSK), equivalent to that of the competitor product, which is described in its own NSF test as a "low density self insulating nature material." said Stock. "Our own product has an R-value below R1 yet was determined to have a TDE rating equivalent to an R10 product. In fact, the test results determined Spunstrand's uninsulated product is superior to the insulated R10 control product."
"How can this be? An uninsulated product with almost no R-value was tested against an insulated product."
Spunstrand says end users of underground duct products desiring or requiring R-value have the right to understand this clearly.
"It's a future liability waiting to happen," says Stock.
"NSF Protocol P374 is insufficient and presently causes confusion in the industry for many, which is evident by the fact that ICC does not recognize that the NSF P374 test determines R-value and NSF does not recognize the NSF P374 as an equivalent test to ASTM C518 for testing R-value, yet we have a manufacturer continuing to claim the two standards are comparable and equivalent."
=====
More about Spunstrand:
For over 50 years, Spunstrand® Inc. has furnished miles of underslab HVAC duct systems, above ground industrial and municipal duct systems and various special applications. Installations are in every state and foreign countries. All these years and miles of pipe have produced a multitude of reliable services available to engineers, contractors and architects.