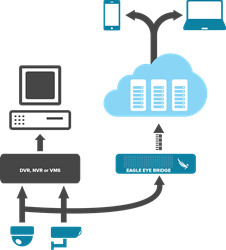 Austin, Texas (PRWEB) September 07, 2016
Eagle Eye Networks, Inc. today announced Eagle Eye Cloud Video Replication, delivering cloud video backup for legacy DVR, NVR and video management systems. Organizations can extend the capabilities of their existing video surveillance system to include an off-site or long term copy of their video.
Eagle Eye Cloud Video Replication provides compliance with off-site video retention regulations and policies, and protects against data loss of video due to theft or hardware failure. Organizations benefit from all of the features of the Eagle Eye Security Camera Video Management System (VMS), including viewing multiple locations on a single screen, user friendly mobile applications and notifications based on motion and/or system health. Eagle Eye Cloud Video Replication is built on the award winning Eagle Eye Video Platform.
Eagle Eye Cloud Video Replication is compatible with leading VMS providers, including Milestone Systems XProtect, Genetec Omnicast, OnSSI Ocularis, exacqVision VMS, Salient Systems CompleteView, and others.
Regulatory and Policy Compliance:
Numerous regulations and policies require organizations to keep video recordings off-site for a specified length of time. Eagle Eye Cloud Video Replication securely stores surveillance video in the Eagle Eye Cloud Data Center, allowing organizations to quickly comply. As regulations and policies change over time, Eagle Eye Cloud Video Replication allows for retention period adjustments up to 5 years. "Eagle Eye Cloud Video Replication allows us to provide our customers with a device that helps them meet compliance when it comes to their offsite surveillance storage needs" says Nate Montierth, CTO/COO of Omniguard Security. Montierth continues, "When it comes to ever changing rules and regulations, no other solution allows us the flexibility and longevity to meet compliance. All of this backed with a fantastic management platform and stellar tech support, makes this product a no-brainer for us and our clients."
Video Loss Protection:
Video loss from DVR or NVR theft, or from a hard-drive crash, is a concern for most organizations. Eagle Eye Networks Cloud Video Replication protects customers from loss because it's replicated 3 times off-site in the Eagle Eye Cloud Data Center.
Enhanced Organization Awareness:
Organizations get all of the benefits of the Eagle Eye Security Camera VMS, which gives them a closer eye on their organization. It offers anytime, anywhere access to live and recorded video, provides comprehensive mobile applications, and consolidates multiple sites into a single view. The system provides unified management and viewing across multiple locations.
To learn more about Eagle Eye Cloud Video Replication, visit http://www.eagleeyenetworks.com/product/eagle-eye-cloud-video-replication.
About Eagle Eye Networks
Eagle Eye Networks delivers the first on-demand cloud based security and operations video management system (VMS) providing both cloud and on-premise recording. Eagle Eye also provides a cloud video API for integrations and application development. The Eagle Eye Platform offers secure, encrypted recording, camera management, mobile viewing and alerts, and first responder real-time video access – all 100% cloud managed. The Eagle Eye Cloud Security Camera Video Management System supports a broad array of IP and analog cameras while using Intelligent Bandwidth Management™, making it easy to deploy at single and multiple sites. The API platform uses the Eagle Eye Big Data Video Framework™, with time based data structures used for indexing, search, retrieval and analysis of the live and archived video. Eagle Eye Networks sells through authorized reseller and installation partners. The headquarters is at 4611 Bee Caves Rd, suite 200, Austin, Texas, 78746. For more information, please visit http://www.eagleeyenetworks.com or call +1-512-473-0500.