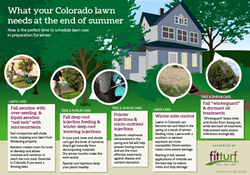 The high elevation of Colorado, combined with the dry winter air, makes adequate fertilization, aeration and pest control even more important to ensure long-term vitality
Centennial, Colorado (PRWEB) September 07, 2016
Late Summer, Early Fall Months Mark Crucial Time for Lawn and Tree Care
Fit Turf offers expert solutions for Colorado residents
The late summer and early fall are the most vulnerable time of year for lawns, trees and shrubs. As long, hot Colorado days turn to short, cool ones, it is crucial that a yard receives proper care to get ready for the winter looming ahead.
It's easy for anyone to overlook lawn care with everything else going on in their lives. But late summer is the best time to make sure the yard looks as good as ever the following spring, according to Fit Turf founder and President Paul Wagner, a veteran of more than 30 years in the lawn care industry.
"Any environment offers its own unique challenges for lawn and plant life," Wagner said. "The high elevation of Colorado, combined with the dry winter air, makes adequate fertilization, aeration and pest control even more important to ensure long-term vitality."
There are a number of lawn care solutions for residents of The Centennial State to consider as they get ready for winter. Every lawn benefits from standard maintenance, and programs such as Fit Turf's Greenskeeper Plus Complete Care Program offer specialized care from industry-leading technicians. Late summer and early autumn visits include rounds of fertilizer and weed control, a Fall Enhancer treatment to encourage root growth, and inspections to identify problem areas.
For lawns that need a little more, fall is the best time of year to revive grass with aeration and overseeding. Fit Turf offers a revolutionary liquid aeration product called Xchange, which creates microscopic pores that free up compacted soil. Following this up with overseeding will help fill out thin patches without summer weeds to get in the way. Meanwhile, getting a head start on winter mite control through a multi-stage miticide application process will prevent these pests from giving a tan, dead lawn for Christmas.
Although grass is the first thing that comes to most people's minds when they think of yard care, Wagner notes that tree and shrub care are equally important.
"It's easy to think that, because trees don't need care in a forest, they don't need care in your yard," Wagner said. "But trees and shrubs in your yard don't have the benefit of decomposing plant materials to provide nutrients, so they need the same attention as your lawn in order to truly thrive."
Tree and shrub solutions include deep root injection feedings, which deposit fertilizer directly into the root zone to help them build up a winter reserve. Pointer injections can also be used to feed pesticides and micro-fertilizers directly into the active inner layers of a tree.
In addition, winter guarding provides a waxy coating that acts like an extra layer of clothes to protect trees from harsh winter winds. Dormant oil treatments will bathe the trees and shrubs in a horticultural oil to eliminate insects and pests.
With a proactive approach in the late summer and early fall, people can rest easy knowing the yard is ready to take on a Colorado winter. Lawns need care just like humans do – and just like humans, they'll respond to being given the best care.
About Fit Turf
Fit Turf was founded in 2007 and provides industry-leading lawn care, tree care and pest control services in Colorado and Michigan. Learn more or get a free estimate at http://www.fitturf.com.
Fit Turf
303-221-6900
info(at)fitturf(dot)com