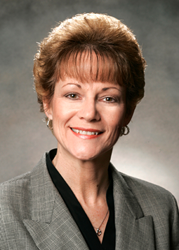 The best practice is clearly to highlight the arbitration clauses by presenting them in boldfaced and upper-case type, and by providing instructions to read the clauses carefully before signing
Roanoke, VA (PRWEB) September 07, 2016
Alternative dispute resolution in long-term care facility cases is gaining ground because of the current litigious climate and the ever-rising number of elderly people, but each state has its own laws about conditions that may make contracts unenforceable, warns medical malpractice defense attorney Nancy Reynolds in a just-published column for Long-Term Living Magazine. The online and print publication focuses on business and other issues for owners, executives, administrators, and directors of nursing at assisted living communities, nursing homes, post-acute facilities, continuing care retirement communities and independent living environments.
"By 2018, the population of people older than 65 years of age could exceed the population below age five for the first time in the history of census data collection," notes Reynolds, a shareholder in national law firm LeClairRyan's Roanoke, Va. office and co-leader of the firm's Long Term Care Industry team. This upward trend means that the frequency of legal flare-ups in long-term care facilities can be expected to increase, she adds.
But if a facility's admission contract contains an arbitration clause, a lawsuit may be avoided, and the facts and case resolution may be kept out of the public eye by processing the case through a confidential arbitration, writes Reynolds in the column, "Defuse disputes with arbitration clauses." She cautions, however, that "There is no 'standard' arbitration clause, since each state has its own laws about conditions that may make contracts unenforceable, including unfair terms, unequal bargaining positions and one-sided arbitration terms."
Also anyone who challenges a referral to arbitration may claim that the arbitration clause was hidden in the contract, allegedly preventing residents from being aware that the option for a jury trial was being waived, she notes. "The best practice is clearly to highlight the arbitration clauses by presenting them in boldfaced and upper-case type, and by providing instructions to read the clauses carefully before signing," advises Reynolds.
She goes on to note that if a specific controversy is not identified as a covered issue in the arbitration clause, it may be excluded from arbitration. "So, drafting an arbitration clause to cover all disputes requires the use of broad language to ensure the dispute is indeed arbitrable," writes Reynolds.
But even a well-crafted arbitration clause is useless if a facility doesn't try to implement it. "Because plaintiffs want to exploit jury biases against facilities, they do not usually request enforcement of arbitration clauses, and the facility must choose whether to enforce arbitration," warns Reynolds. "It is important to note that if a facility does not assert its rights initially, there will likely be a 'point of no return' in the litigation, after which the facility will be deemed to have waived the right to enforce arbitration. So while it is important to carefully design and execute arbitration agreements, it's also vital to exercise them in a timely manner."
The full column is available at http://www.ltlmagazine.com
About LeClairRyan
As a trusted advisor, LeClairRyan provides business counsel and client representation in corporate law and litigation. In this role, the firm applies its knowledge, insight and skill to help clients achieve their business objectives while managing and minimizing their legal risks, difficulties and expenses. With offices in California, Colorado, Connecticut, Delaware, Georgia, Maryland, Massachusetts, Michigan, Nevada, New Jersey, New York, Pennsylvania, Rhode Island, Texas, Virginia and Washington, D.C., the firm has approximately 380 attorneys representing a wide variety of clients throughout the nation. For more information about LeClairRyan, visit http://www.leclairryan.com.
Press Contacts: At Parness & Associates Public Relations, Bill Parness, (732) 290-0121, bparness(at)parnesspr(dot)com or Lisa Kreda, lkreda(at)parnesspr(dot)com