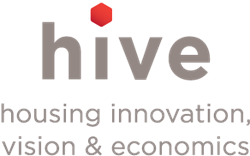 "The individuals and technologies we honor in the HIVE 100 share a commitment to direct, locally guided, creative action that the industry has been waiting for," said Peter Goldstone, CEO of Hanley Wood.
Washington, D.C. (PRWEB) September 08, 2016
As part of its groundbreaking HIVE community launch and the imminent, sold-out HIVE 2016 conference, Hanley Wood announced today the winners of the HIVE 100 Innovators Award, a list of housing's most innovative 100 people. The HIVE 100 spotlights market catalysts and honors individuals who are the vanguard of landscape-changing contributions. The awards recognize housing's most influential innovators in five distinct categories: Design, Demographics, Finance, Business Management, and Products. The top innovator in each of the five categories will be honored on September 29 during the HIVE 2016 conference in Los Angeles. They include:

Business Management – Howard Perlman, principal, Perlman Architects –Innovator for designing a multi-generational hub that flexes as needs change
Demographics – Jonathan Tate, president, Office of Jonathan Tate – Innovator for overcoming many of the challenges associated with entry-level housing
Design – Platt Boyd and Chris Weller, co-founders, Branch Technology – Innovators for developing a method to change the future of building construction with 3D printing
Finance – Barry Sternlicht, founder, chairman, and CEO of Starwood Capital Group – Innovator for predicting the recovery, betting big on it, and winning
Products – Elon Musk, CEO, Tesla – Innovator for developing the Tesla Powerwall
Additional honorees include urban planners, architects, visionaries, and product manufacturers who are offering new ideas and solutions. These ideas and solutions range from partnering public spaces with the people who use it, creating affordable net-zero-energy kit homes, and building shipping container homes and micro units, to developing a sustainable city video game to help users think about the resources and services needed to create sustainable cities. For a list of all honorees, please visit the HIVE 2016 site at http://www.hiveforhousing.com.
"The individuals and technologies we honor in the HIVE 100 share a commitment to direct, locally guided, creative action that the industry has been waiting for," said Peter Goldstone, CEO of Hanley Wood. "With the HIVE 100 Innovators Awards, we salute a unique group of individuals and organizations who represent bold ideas, products, and solutions that will help renew the places we all call home and reinvent the cities we live in."
HIVE 100 innovators were carefully researched and validated by a team of Hanley Wood editors and trusted advisors. "Our team used a rigorous process to vet what we believe represents the most compelling figures in innovation and technology in housing today," said John McManus, editorial director-residential group of Hanley Wood. "These innovators will help guide and spark the next generation of the housing community's C-suite, thought-leaders, game-changers, and policy-makers to help transform our industry."
Hanley Wood's HIVE 2016 is a two-day event that will bring together the brightest minds and talents to address the ever-challenging housing business community. Through keynote addresses and educational content presented by innovative thought leaders, HIVE 2016 will act as an incubator of forward-looking ideas, inspirations, and inventions that will change the future of the construction and design industries. It will enhance the way builders, architects, land developers, and place-makers think and work. Content and discussions at this first-ever event will be driven by five transformative forces: Demographics, Finance, Design, Products, and Business Management.
HIVE 2016 is supported by title and underwriting sponsor, Ply Gem, and founding sponsors, Louisiana Pacific (LP), Kohler, and Electrolux. The conference will take place at the JW Marriott at L.A. LIVE, 900 W Olympic Blvd., Los Angeles, on September 28 and 29, 2016. To register, or for more information about the conference, please visit http://www.hwhive.com.
ABOUT HANLEY WOOD
Hanley Wood is the premier company serving the information, media, and marketing needs of the residential, commercial design, and construction industry. Utilizing the largest analytics- and editorial-driven construction industry database available, the company provides business intelligence and data-driven services. The company produces award-winning media, high-profile executive events, and strategic marketing solutions.