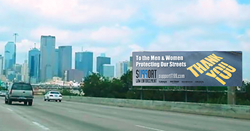 We encourage companies from coast to coast to join our campaign and send a strong message of support to local law enforcement.
Dallas, TX (PRWEB) September 07, 2016
Days after the police assassinations in Dallas, Dave Theobald was having lunch in a Houston restaurant when he saw two law enforcement officers. He was troubled by the thought of how much more dangerous their jobs had become and felt compelled to go over and thank them for the work that they do. The policemen were incredibly grateful and their reaction, along with the news of more police assassinations in Baton Rouge, inspired Dave and his organization to do more. Turman Commercial Painters, along with affiliates Washington Commercial Painters, Oregon Commercial Painters and Coast2Coast Signs have launched Support Law Enforcement 1199, the national campaign to unify business in support of local law enforcement. As part of the campaign launch, Support Law Enforcement 1199 has created billboards in the downtown Dallas area that are designed to show their heartfelt appreciation to local law enforcement. It's a big "Thank You" to the brave men and women in the Dallas police department. The billboards will be on display through the month of September. As part of the national effort, large banners have been displayed at businesses across the country and free bumper stickers are now available at http://www.support1199.com – a new website created to help motivate and facilitate other companies to join the cause. 
"Everyday the men and women in blue put their lives on the line for us and our families. It's time the business community shows them our appreciation," says Theobald. "There has been so much negative press surrounding law enforcement, we've launched this campaign in part, to counteract the negative portrayal of police in the media and social media." Coast2Coast Signs, in Houston, is printing large banners that display the Support Law Enforcement 1199 logo alongside the police flag. The number 1199 is significant as it stands for Officer Needs Assistance in the official police code.
 
In an effort to extend its reach, the campaign created the http://www.support1199.com website. The goal of the website is to communicate appreciation for the men and women in blue while challenging companies across America to show strong and unified support for local law enforcement.  The website allows visitors to join the campaign by requesting free printed materials or by downloading artwork for banners and decals. Thousands of bumper stickers have been printed and are available on the website. In the week proceeding the launch, 200 bumper stickers have been mailed out. In addition, you can show support by adding your company logo or a testimonial to the website. Companies from Charlotte to Spokane have joined Support Law Enforcement 1199. "This is a challenge to individual business owners," says Theobald.  "We encourage companies from coast to coast to join our campaign and send a strong message of support to local law enforcement." 
 
For more information, click this link: http://www.support1199.com