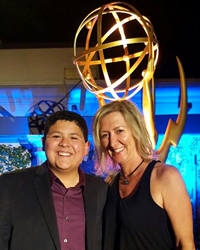 I have learned so much from Helen. She teaches me how to make the material my own and to have fun doing it. She really challenges me to keep getting better. Helen is the best acting coach! Tayler Buck (Annabelle 2)
Los Angeles, CA (PRWEB) September 07, 2016
Renowned child acting coach, Helen Gordon, known for creating stars such as Rico and Raini Rodriguez, announces the launch of Audition Superhero, a first-of-its-kind online acting training program that is solely dedicated to transforming kids' commercial and theatrical auditions.
"At Helen Gordon Studios, we know casting directors don't want actor robots, which is why we focus on the importance of our students being themselves, acting natural and having fun," said Helen Gordon, Creator, Audition Superhero. "Now, with the launch of Audition Superhero, we're excited to bring these game-changing techniques to young actors everywhere, at all stages of their career."
Audition Superhero incudes six video training modules with dozens of before and after examples of actual students demonstrating the techniques so young actors gain confidence and learn to think on their feet. Specifically, they will learn:

To rock commercial and theatrical auditions
How to leverage their personalities
How to create memorable characters and give unique auditions
How to use cue cards
Slating
How to make risky choices
The 3 Simple Rules to becoming an Improv Master
How to bring a scene to life so Casting Directors notice
In addition, Audition Superhero comes with scenes, commercial copy, and downloadable worksheets to practice with and reinforce all of the lessons. https://kidstar.helengordonstudios.com/improv-secret.
"Coaching with Helen is like having all the answers to a test before going into an audition and she has done wonders for my child," said Judy Marino. "When you coach with her, you feel like you are seeing the audition through a Casting Director's mind because she can quickly recognize all positive and negative aspects of a performance.
About Helen Gordon
Helen Gordon is a NY-trained professional actress and has been coaching young actors in Los Angeles for 20 years. Her students are some of the most successful young actors in Hollywood who have worked with Harrison Ford, Johnny Depp, Brad Pitt, Jim Carrey, Cameron Diaz, among others. Helen was the on-set acting coach for Nickelodeon's hit TV show, The Haunted Hathaway's (50 episodes), Santa Hunters, and other pilots. She has been named one of Backstage's Favorite Acting Coaches for young performers three years in a row. Helen lives in Sherman Oaks, California with her husband and daughter. http://helengordonstudios.com
###