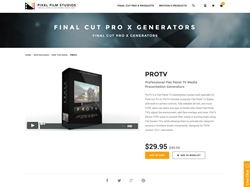 ProTV gives FCPX editors 4 popular Flat-Panel TV Styles with built-in camera controls, fully editable 3D text and many more tools that will help users create the exact TV presentation they desire
Aliso Viejo, California (PRWEB) September 08, 2016
"ProTV gives FCPX editors 4 popular Flat-Panel TV Styles with built-in camera controls, fully editable 3D text and many more tools that will help users create the exact TV presentation they desire," said Christina Austin - CEO of Pixel Film Studios.
ProTV includes 4 different Flat-Panel TV Styles to choose from, each with a variation with animated Text. Each TV has different reflection presets, adjustable pedestal properties, and more for new levels of realism. Presenting media onto a flat-panel high definition TV has never looked better.
ProTV has a unique set of camera controls that allows users access to infinite variations of TV Movements. FCPX Editors can select the start and end points of each camera animation, anywhere in X, Y, and Z space. Camera Lens Angle-of-view controls are also included for even more extreme action-packed camera angles and perspectives.
ProTV includes a unique compositing title layer that can be applied over footage on the FCPX timeline. This unique compositing includes contrast controls, Blur settings, and a customizable lens flare that can be placed over the TV generator for added style and realism.
ProTV is a set of Generator and Title tools designed specifically for Final Cut Pro X. Each generator contains a popular flat-panel TV style, along with all the editing and customizability controls that any editor could want. Each preset style also has a text variation option, for users to place a tv and phrase into one single generator. ProTV is designed to work with FCPX versions 10.2.1 and newer.
Established in 2006, Aliso Viejo, California-based Pixel Film Studios is an innovative developer of visual effects tools for the post-production and broadcast community. Their products are integrated with popular non-linear editing and compositing products from Apple FCPX. Apple, the Apple logo, Mac OS X, and Macintosh are registered trademarks of Apple Inc. in the U.S. and/or other countries. All other trademarks and trade names are the property of their respective owners.