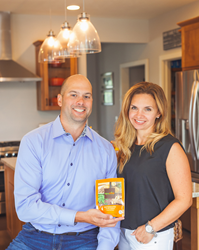 It makes me feel so much better knowing that we are giving Nathaniel a wide range of real food and not just the same formula with corn syrup, preservatives or ingredients over and over again! - Magdalena Michniowska Newman
Chesterton, IN (PRWEB) September 07, 2016
Real Food Blends, maker of 100% real food meals for people with feeding tubes, and the company that started a real food revolution in the medical community for people living with feeding tubes, now proudly introduces their fourth meal option: Beef, Potatoes & Peas. The new Beef meal contains only pureed ground beef, potatoes, peas, pineapple juice and grapeseed oil. This new, whole food meal is a direct result of customer feedback about wanting more variety and the company's dedication to continuous innovation. This new meal also expands on and complements Real Food Blends' already diverse product line that consists of three other meals featuring Salmon, Oats and Squash; Chicken, Carrots, Orange Juice and Brown Rice; and Quinoa, Kale and Hemp meals.
"What started as a personal mission for us to help our tube-fed son get better nourishment than commercial formulas that rely heavily on corn syrup for calories, has ultimately led us to creating a company that is now helping tens of thousands of tube-fed people across North America and Canada," said Real Food Blends Co-Founder & CEO Julie Bombacino. "From the very beginning, we have focused on nutritional variety instead of trying to create one end-all be-all formula that people would have to "eat" over and over again. Nobody wants to eat the same thing for every meal, every day and medical professionals would never recommend that for an oral eater!"
With this meal-based approach, Real Food Blends has now sold well over 1 Million meals and annualized sales are up over 800% since their full launch in June of 2014.
"Thanks to Real Food Blends, I no longer dread mealtime anymore! Their meals leave me feeling much more satisfied with more energy and I've had a lot less issues with things like stomach aches since switching from traditional formulas I used to eat," said 11 year-old Nathaniel Newman.
"As a parent and caregiver, it makes me feel so much better knowing that we are giving Nathaniel a wide range of real food and not just the same formula with corn syrup, preservatives or ingredients over and over again – I'm very thankful we found Real Food Blends," said Nathaniel's Mom, Magdalena Michniowska Newman.
Feeding tubes are becoming more prevalent and visible in our society, and the number of people living with a feeding tube continues to grow -- in part from medical advancements that are helping people fight and thrive with diseases and medical challenges such as cancer, ALS, cerebral palsy, brain injuries, cystic fibrosis, premature births and more. In parallel, tube-fed people and their families and friends are becoming more educated and connected than ever before as well – and more and more of them are becoming aware that real food is still a viable and recommended option.
"As a dietitian, my main focus has always been on helping families figure out how to easily, affordably, and deliciously prepare nutritious meals at home. Eating whole foods from all food groups helps keep bodies well adding additional protection from lifestyle related illnesses and reducing the risk of chronic disease. Now, as a parent of a child who relies on a feeding tube for 100% of her nutrition, I naturally want to feed my child the most nutritious foods available. My daughter is healthy and thriving on real foods I prepare in my own kitchen and Real Food Blends meals. I feel comfortable feeding RFB meals to my daughter knowing they were originally conceived in Julie & Tony's kitchen to fulfill the need to feed their own tube-fed son the best food possible and the first ingredient they started with is, love. Real Food Blends is a company I can really get behind!" said registered dietitian and "tubie" Mom, Courtney Stinson.
The enteral nutrition market has continued to grow and evolve to the point that Real Food Blends is proactively recommended by leading medical institutions such as The Cleveland Clinic, The Mayo Clinic and large Durable Medical Equipment (DMEs) and healthcare companies like Medline, McKesson and Cardinal Health, who all have come to trust the team and brand. The meals are also covered by most private and public medical insurance plans as a medical necessity.
"As this market evolves and people begin to demand more innovation and choice we continue to learn the most from our customers and their caregivers," said Tony Bombacino, Co-Founder & CMO of Real Food Blends. "We have a large community of engaged and passionate customers, who along with their families, are constantly giving us feedback about our existing meals, ideas about new meals they would like us to create and other things we could be doing to make things a little easier for them – this trusted and intimate connection with our customers is what drives our product roadmap, R&D and keeps us going even faster."
The new beef, potatoes and peas meal is available for purchase starting today, September 7, 2016, via our large network of DMEs and home healthcare companies as well as RealFoodBlends.com.
ABOUT REAL FOOD BLENDS
Real Food Blends was born from Julie & Tony Bombacino's love for their own tube-fed son and a belief that we all deserve real food. The company makes 100% real food meals that are blended to go through feeding tubes. The meals are shelf stable, free of corn syrup and preservatives and are covered by many insurance plans. With over 1 Million meals sold across the United States and Canada, they are available through a large network of DMEs, medical supply and home healthcare companies or direct via RealFoodBlends.com.