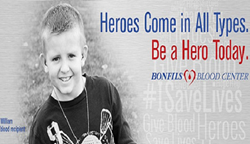 BGV employee, Katie L'Estrange participated in the blood drive and stated, "BGV did a great job and the drive had a good turnout. It's amazing that my donation could save someone's life."
Breckenridge, CO (PRWEB) September 06, 2016
On Tuesday, August 23rd, 2016, Breckenridge Grand Vacations (BGV) and Beaver Run Resort partnered in hosting a blood drive to benefit the Bonfils Blood Center. The drive was coordinated by Deb Edwards, the Program Manager of Breckenridge Grand Vacation's philanthropic program BGV Gives, and Jessica Stackhouse, the Conference Services Manager at Beaver Run Resort.
A total of 31 donors, 26 of which were BGV employees, participated in giving blood at the drive. It takes about one hour to complete the screening and have one pint of blood collected, which is a relatively small amount of time to sacrifice in support of saving lives. For every pint of blood collected, 3 patients will benefit from receiving red blood cells, platelets and/or plasma. That brings the number of patients who will be helped as a result of this blood drive to 93 people.
The Bonfils Blood Center team was very impressed with the success of the drive in yielding such a substantial number of collected pints. The team went on to note that 27 participants had never donated blood before this drive, which is a remarkably large amount of first-time donors.
Bonfils is headquartered in Denver at the Lowry Community Donor Center and frequently teams up with sponsors like BGV and Beaver Run Resort to run blood drives at locations across the state of Colorado. To learn more about the services offered by Bonfils Blood Center and how to get involved, click here.
About BGV Gives: Founded in 2016, the BGV Gives Program was established to facilitate and further extend Breckenridge Grand Vacations' philanthropic reach and impact in Summit County and the surrounding area. Inspired by the late BGV Owner/Developer, Rob Millisor, this charitable program honors his example of service to others by supporting the local nonprofit community. BGV is excited and humbled to continue Rob's legacy of giving through fundraising, sponsorships, grants, volunteering and in-kind donations on behalf of those in need, with a primary focus on health, human services and education. With guidance from the BGV Gives Program Manager, Deb Edwards, this program is committed to growing BGV's local contributions and inspiring fellow community members to give more, by providing resources and opportunities to help others in need.