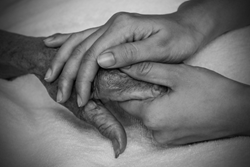 "We have to remember that people are living until their last breath."
Portland, Oregon (PRWEB) September 08, 2016
Planning for a "good death" represents a significant change in the perception and expectation for people at the end of life, and for their family. The conversation surrounding death and how we care for, and how we can best support, and serve the dying has evolved in mainstream society. There is a new approach that focusses on exploring life meaning, bringing a sense of reverence to the atmosphere around a dying person, and creative attention to maintaining the best quality of life up until the last breath.
Death doulas, death midwives, or end of life doulas are trained professionals or volunteers who guide and support the dying based on a new approach the International End of Life Doula Association (INELDA) is providing. Through their efforts, and their training, the idea of a "good death" is seeping into our collective consciousness.
INELDA is offering a 22-hour end of life doula training in Portland, Oregon October 14 - 16, 2016. Led by Henry Ferko-Weiss, Co-Founder and Executive Director of INELDA, students will learn how to explore meaning through legacy, how to become a deep active listener, how to create and conduct guided visualizations, how to help a dying person and their family plan for the atmosphere around the bedside, and how to use touch, music, reading, and ritual to enrich the final days.
The training is open to all who are interested in learning about the role of end of life doulas. No previous hospice or medical experience is required. This training will be a transformative weekend filled with deep, meaningful work.
Preregistration is required and space is limited.