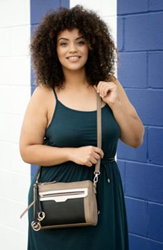 Los Angeles, CA (PRWEB) September 08, 2016
88 Handbags is taking the standard crossbody strap and creating a new standard in their new fall collection. This new strap option is helping to innovate and modernize the fashion and accessories industry, allowing for the Perfect Fit for all their customers. 88 is one of the first brands to pave the way for even more changes to come in the fashion industry when it comes to Plus-Size fashion. Each purse now has the option to include both a standard size strap, along with a longer strap, catering to the plus size customer. This means 88 customers will now have the opportunity to get two straps for the price of one. The longer strap goes up to size 28, allowing women of all shapes and sizes to enjoy a full cross body look. 88 Handbags has also created a new tab on their website dedicated to their plus size customers "Curvy Girl". Shop curvy girl will showcase all the 88 handbags that are tailored to the plus size customer.
The fall collection embodies sophistication, vibrate colors, and strong silhouettes. Vegan materials, superior quality, and unique designs are indicated in this fall collection. The staple Katie Medium Satchel is returning in two new colors, teal and neutral. In addition to the new bag selections and colors, 88 is introducing bag charms. Key rings, faux fur pom poms and foxtails are here to help you personalize any bag!
About 88:
88 is a collection of Vegan Handbags. 88 values the environment and wants to bring the best to their customers. The founder of 88 is a lifelong vegetarian and believes that the environment would benefit from the reduction of factory farming. The collection is designed by a team that works on designs for several brands worldwide. Bags designed to help you express your individual style, and to be useful in your daily adventures of life. 88 is known for having excellent quality at affordable prices. Each bag is individually constructed and tested for durability.
Another great thing about 88 is that they donate a percentage of every sale to a charity that assists in educating women around the world. They believe that educating women is the key to a better world. They are also starting a new campaign that will allow them to partner with different Vegan organizations to connect their brands message with their charitable mission.
The meaning of 88:
The number "88" is the number of constellations in the sky. Shuttle mission 88 started construction of the international space station finished in 1988. In ham radio "88" is the sign off that means love and kisses. "88" is considered the luckiest number in Chinese culture as it sounds like "word for wealth". The snake swallowing its own tail is an ancient Egyptian symbol for the self-sustaining, self-contained universe. "88" represents the cycle of creation and recreation.
To learn more about 88 Handbags, go to: http://www.88-eightyeight.com
You may also visit their social media pages, listed below:
Instagram: @88.eightyeight
Twitter: @88_handbags
Facebook: @88handbags
Pinterest: @Eightyeight_88