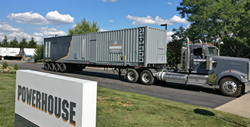 Putting 1,000 HP inside a box is not a new idea, but there is a reason no one has done it before.
Delanco, NJ (PRWEB) September 12, 2016
Powerhouse announced today that it completed production on the RH-1000 Portable Boiler Room. The RH-1000 is the first ever complete portable boiler room capable of producing 34,500 lb/hr of steam at 99.5% steam quality. Using a custom Cleaver Brooks boiler, the rental boiler was designed, built and tested by Powerhouse. This boiler is a custom CBEX Premium model with high turndown, extended heat transfer tubes and integral burner.
"Putting 1,000 HP inside a box is not a new idea, but there is a reason no one has done it before." stated Powerhouse CEO/President, Matt Stohner. "We are proud to have built this system with the best boiler available anywhere from Cleaver Brooks. Our team answered the bell – they designed, built and tested the most powerful and most advanced Portable Boiler Room ever."
David Brick, Firetube Boiler Product Manager for Cleaver Brooks, expressed "More than just a promise, with a boiler designed and built by Cleaver Brooks integrated into a package by Powerhouse Equipment it is the world's first 1000 HP mobile boiler room. The boiler includes guaranteed output, guaranteed turndown, guaranteed emissions and a pressure vessel warranty. This along with the legendary Cleaver Brooks integral head burner design for unmatched longevity. It is a true proven accomplishment in steam boiler design and versatility."
The system is controlled by a touchscreen HMI and has integrated Siemens Moore 353 loop controllers. Low NOx operation of 30PPM is guaranteed. Unit can run on Natural Gas, LPG and #2 Oil.
What makes the RH-1000 'complete' is the addition of an integrated feedwater treatment system including duplex water softeners, duplex fully-modulating feedwater pumps and an automatic chemical injection system. The entire system is pre-piped and integrated within a steel intermodal container with removable chassis. All connections are made external to the unit, allowing for simple and efficient connection at the job site.
A custom rail system allows easy access to both tube sheets for inspection and repairs. All major components are easily removable and replaceable, including motors and burner components.
A complete test of the system, which included exporting steam at full capacity, was performed at Powerhouse's facility in New Jersey. The RH-1000 was constructed to survive 15+ years in harsh rental applications.
Find out more at http://www.powerhouse1000.com