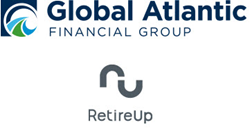 Enhancing our clients' understanding of our products benefits everyone. - Paula Nelson, Head of Retirement Distribution for Global Atlantic
Chicago, IL (PRWEB) September 08, 2016
RetireUp and Global Atlantic Financial Group have partnered to help clients visualize retirement income from the ForeIncome and ForeAccumulation fixed indexed annuity products, using RetireUp's innovative software. With the software, agents can shift the retirement income conversation from a static dialogue to an easy-to-understand graphical representation, connecting with clients in a new and powerful way.
"Enhancing our clients' understanding of our products benefits everyone. Clients want to know how much income they need and how long it can last. They want to fully understand how ForeIncome and ForeAccumulation annuities could benefit their retirement," said Paula Nelson, Head of Retirement Distribution for Global Atlantic. "RetireUp helps agents and advisors give clients a complete retirement income story in a way that really resonates."
Real-time, Real-world Visual Scenarios
Since its launch in 2014, RetireUp has been making waves within the industry for its innovative approach to retirement planning. Though advances in technology have made the client-advisor relationship less personal, the RetireUp platform stands apart.
With RetireUp, advisors have the power to quickly answer pressing questions with real-time, real-world visual scenarios that tell the Retirement Income Story©. Armed with a visual representation of those important what-if's, clients can then work with advisors to protect their assets and find solutions that will work for their futures.
RetireUp, designed for use during live meetings, takes just minutes for advisors to craft visual retirement income stories during consultations. With richly detailed graphical representations of retirement income and the factors that impact it, clients get the full picture of potential weaknesses and are poised to start working with their advisors to create robust plans of attack.
"In partnering with Global Atlantic, RetireUp can really help showcase the real value of the ForeIncome and ForeAccumulation fixed index annuities," said RetireUp CEO Dan Santner. "Our mission is to help financial professionals connect their clients with the products they need in a personalized, dynamic way. Our technology builds stronger relationships by empowering advisors to give personalized advice while enhancing sales."
ABOUT RETIREUP
RetireUp is the premier retirement planning software tool preferred by leading financial professionals to easily Tell the Retirement Income Story©. With a dynamic user interface and stunning graphics, RetireUp models unlimited what-if scenarios with speed and clarity. The intuitive web-based tool makes it simple for the client to understand retirement distributions from specific financial products, leading to confident decision-making and higher sales from the very first consultation. RetireUp works with enterprises, registered representatives, independent financial advisors, and RIA's, providing unlimited coaching and support for a flat subscription fee.
ABOUT GLOBAL ATLANTIC FINANCIAL GROUP
Global Atlantic Financial Group, through its subsidiaries, offers a broad range of retirement, life and reinsurance products designed to help our customers address financial challenges with confidence. A variety of options help Americans customize a strategy to fulfill their protection, accumulation, income, wealth transfer and end-of-life needs. In addition, Global Atlantic offers custom solutions and responsive service for the capital, risk and legacy-business management of life and annuity insurance companies around the world.
Global Atlantic was founded at Goldman Sachs in 2004 and separated as an independent company in 2013. Its success is driven by a unique heritage that combines deep product and distribution knowledge with insightful investment and risk management, alongside a strong financial foundation.
###
ForeIncome and ForeAccumulation fixed index annuities are issued by Forethought Life Insurance Company, 300 North Meridian Street, Suite 1800, Indianapolis, Indiana. Available in most states with contract FL-FIA-13 and ICC14-FL-FIA.
Global Atlantic Financial Group (Global Atlantic) is the marketing name for Global Atlantic Financial Group Limited and its subsidiaries, including Accordia Life and Annuity Company, Commonwealth Annuity and Life Insurance Company, Forethought Life Insurance Company and Global Atlantic Re Limited. Each subsidiary is responsible for its own financial and contractual obligations.
Media inquiries:
RetireUp, Inc.
Contact name: Michael Roth
Phone: 847.984.3218
Email: Michael(at)retireup(dot)com
Global Atlantic Financial Group
Contact name: Gabrielle Simon, Prosek Partners
Phone: (203) 254‐1300, ext. 108
Email: gsimon(at)prosek(dot)com
1511164.1