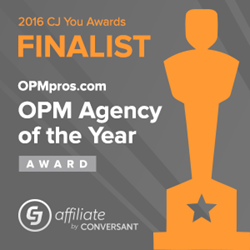 (PRWEB) September 07, 2016
Award-winning affiliate marketing agency OPM Pros (http://www.OPMpros.com) has been nominated for the 2016 'Agency of the Year' CJ You Award by CJ Affiliate by Conversant. This is the Montreal-based agency's third consecutive year receiving a nomination for this award, having won the award at the 2015 CJ You Awards.
"We're incredibly excited by the 'Agency of the Year' CJ You Award nomination," says Paresh Vadavia, OPM Pros Co-Founder and CEO. "Being named an 'Agency of the Year' Award Finalist marks a significant achievement for the team. After being nominated three years in a row and actually winning the award last year, we're honoured and grateful to be given the chance to claim the award again. While we've grown a lot as a team over the last year, we remain dedicated to our partnerships with advertisers and publishers in the CJ Network, and I feel very proud and fortunate to have the team's hard work recognized."
The annual CJ You Awards will take place on Wednesday, September 14, 2016 in Santa Barbara, California. The Awards recognize and celebrate the achievements of top-performing advertisers, publishers, innovators and agencies in the industry that have proven to be greatly successful at affiliate marketing solutions. The criteria for an Agency of the Year award includes growth based on client sales, publisher votes, and CJ relationships fostered and delivered. You can view video footage of last year's awards ceremony here and photos of the event here.
This year, OPM Pros proudly celebrates its 7th anniversary. OPM Pros was founded in 2009 by Paresh Vadavia and Sonny Lamba, and what started as a two-man operation has since grown into a 50+ person agency responsible for driving billions of dollars in revenue for their partners along the way. Committed to providing value, the agency expanded their services in 2015 to include Paid Search, Display Advertising, SEO, Mobile Strategy, and others.
About OPM Pros
OPM Pros is an award-winning, full-service digital marketing agency. With origins in affiliate marketing, the company has grown to offer expert services in Paid Search, Display Advertising, SEO, Web and Mobile Analytics, Creative Services, and others. Based in Montreal and led by Co-Founders Paresh Vadavia and Sonny Lamba, OPM Pros is counting a team of 50+ employees, a client roster of 100+ retailers across the globe, and multiple awards recognizing vision, innovation, and financial performance of OPM Pros in the affiliate marketing field.
See more at OPMpros.com.
Contact info here:
Olivia Taddio
olivia@opmpros.com
4900 Jean Talon O,
Montreal QC, QC H4P 1W9
###