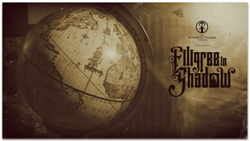 "It chilled me to my core. Absolutely stellar in every way." - Neil Patrick Harris, actor
(PRWEB) September 08, 2016
The Mysterious Package Company launched its second Kickstarter campaign yesterday,"Filigree in Shadow," surpassing both the overall goal in forty minutes, and reaching the first stretch goal in under two hours. Following a wildly successful year that saw the culmination of the ambitious 2015 campaign for "The Century Beast" (which raised over $420,000, making it the 6th most funded Art project in Kickstarter history), "Filigree in Shadow" continues to push the boundaries of storytelling experiences by post.
"Filigree in Shadow" is a haunting tale about the bizarre experiences of the tenants of an old Victorian home, told in the unique Mysterious Package Company style. The narrative is recounted through several physical mailings consisting of letters, documents, photographs, newspaper clippings, and objects. All details, from the appearance of the paper, to the ageing of an object, or the stamp on an envelope, are designed to give the utmost impression of realism to immerse a recipient into the story. "Filigree" goes one step further by including technology that draws the recipient even further into the mysterious events in the house.
The Mysterious Package Company sent thousands of packages from their curated catalogue in the last year. Some have been as gifts for the person who has everything, or to those who need a little mystery and excitement. More information can be discovered at http://www.mysteriouspackage.com or through their notoriously playful Facebook page.
"It chilled me to my core. Absolutely stellar in every way." - Neil Patrick Harris, actor
"Getting stuff from The Mysterious Package Company is like starring in your own HP Lovecraft story… Best gift ever." - Chris Burnham, best-selling artist of Batman Incorporated
"The Mysterious Package Company offers delightful, affirmative surprise, surprise that remains surprising even when you know that it's coming." - Ian Bogost, author and game designer.
ABOUT THE MYSTERIOUS PACKAGE COMPANY
The Mysterious Package Company was founded in 2012 and has been producing and sending strange mail to unsuspecting recipients ever since. Current experiences include titles such as the Eldritch horror "The King In Yellow," a time-travelling science fiction "Tempus Fugit," the Lovecraftian monster story "The Century Beast" and latest offering, a family friendly Mayan adventure "Under the Ceiba Tree." The company consists of artists, writers, designers, craftspeople, and other creative minds who work together under the watchful eye of its elusive founder, the Curator, who sends weekly missives to members, but is never seen in public.
For more information, contact: Roo Raymond at roo(at)mysteriouspackage.com.