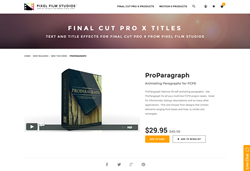 With ProParagraph FCPX users can now choose from 30 self-animating paragraphs that will enhance any media in need of large amounts of text such as listings, infomercials, and descriptions
Aliso Viejo, California (PRWEB) September 10, 2016
"With ProParagraph FCPX users can now choose from 30 self-animating paragraphs that will enhance any media in need of large amounts of text such as listings, infomercials, and descriptions," said Christina Austin - CEO of Pixel Film Studios.
The ProParagraph Plugin comes with 30 captivating self-animating paragraphs designed for multi-lined text purposes. Choose from presets with compelling and simplistic designs that exude professionalism. ProParagraph's eye-catching designs make it a complement to any video production.
Choose from a wide variety of creatively animated presets that will enhance any FCPX project. Each preset includes both an intro and outro animation, giving the user piece of mind.
Our user-friendly interface allows for efficient customizations of each preset. Use on-screen controls to change the orientation of each preset. Customize colors, length, width, opacity, and scales with intuitive controls.
ProParagraph is made exclusively for FCPX. To use, simply drag and drop a selected preset into the timeline above any media and quickly modify the preset using any of the easy to use controls.
Established in 2006, Aliso Viejo, California-based Pixel Film Studios is an innovative developer of visual effects tools for the post-production and broadcast community. Their products are integrated with popular non-linear editing and compositing products from Apple FCPX. Apple, the Apple logo, Mac OS X, and Macintosh are registered trademarks of Apple Inc. in the U.S. and/or other countries. All other trademarks and trade names are the property of their respective owners.