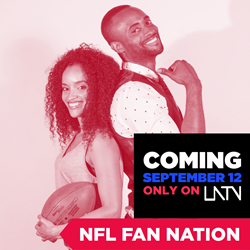 We are extremely excited to be partnering with one of the top brands in the world of sports, The National Football League. For LATV, it is a major coup to secure this landmark relationship,
Los Angeles, CA (PRWEB) September 07, 2016
LATV, the original national bi-cultural television network, is excited to announce NFL Fan Nation a new, weekly NFL highlight show, premiering Monday, September 12.
The NFL's fastest rising fan base is its Hispanic audience. LATV speaks directly to that audience with NFL Fan Nation- a fast-pace, high-octane experience complete with highlights, commentary, analysis, and fantasy football tips.
NFL Fan Nation is a fun and personal show about all things pro football, hosted by LATV's most outspoken football fanatics, Ana Marte and Adrian Jules.
LATV Networks is known for taking an alternative approach to its programming, and now the majority of its content will be produced in U.S., based out of its state-of-the-art Los Angeles studio, for all platforms. The new programing contains a vast array of new productions that take us inside the art, the music, the sports, and the trends that Latino millennials are into today. And the most important sports league among Latino millennials in the U.S. today is undoubtedly the NFL.
"We are extremely excited to be partnering with one of the top brands in the world of sports, The National Football League. For LATV, it is a major coup to secure this landmark relationship," Luca Bentivoglio, LATV's COO and Head of Programming explains. "Football is a major interest for young Latino sports aficionados and with NFL FanNation, LATV is able to offer an NFL highlight show that speaks to the multi-cultural fans."
About LATV:
LATV is the only remaining Latino-owned TV network in the Hispanic television space. Its programming primarily targets U.S.-born Latinos and the coveted bi-cultural 18-49 Latino demographic, with content that features a originally produced shows in Los Angeles, as well as licensed content that has never before been seen in the U.S. For more go to http://www.LATV.com